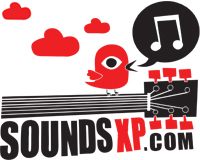 HOME
REVIEWS
albums
singles/downloads
gigs
demos
NEWS
INTERVIEWS
FREE MP3s
STREAMED MUSIC
MUSIC VIDEOS
FORUM
LINKS
ABOUT US
CONTACT US
SEARCH
- RSS Feed
SoundsXP Presents
Next show:

BAD FRIDAY!
Acts tbc

The Windmill, Brixton
Good Friday 2017, 3pm till late



On Our iPod
Latest Forum Posts
Where did everyone go?
- replies (1)
Support a good cause, see some great bands and win stuff!!
- replies (0)
Masonics + Baron Four + Ye Nuns + raffle!
- replies (0)
End of the Road 2016 - hits and misses
- replies (1)
17/9 Walthamstow Festival Indie Alldayer - Free!
- replies (0)
RIP David Bowie
- replies (7)
7/9 LDN Steven James Adams+Papernut Cambridge+Bill Botting
- replies (0)
Sat 6 Aug, London - Shake The Shacklewell IV
- replies (0)
Sounds XP Masters Fantasy league 2016/17
- replies (0)
LDN 20/8 Miracle Legion + Darren Hayman @ Oslo, Hackney
- replies (0)
David Cronenberg's Wife




Bluebeard's Rooms

Blang Records

Article written by Ged M - Sep 28, 2008

It's strange that they've been stuck with the anti-folk tag when they're as much devotees of the darker side of indie rock, and singer Tom Mayne has something of a Mark E Smith or Nick Cave in the strangeness and directness of his grim lyrical thoughts. 'I Do Know' is a bizarre tale of self-loathing and bad relationships – "what would you say if I married you, just to get close to your teenage daughter?" – where the inky-black humour has the potential to turn violently menacing in a second. 'Harry the Morgue', on the other hand, is just a funny story of an embalmer who loves his work and his boss just a little too much. The Velvet Underground and Bad Seeds are influences on the sound of DCW but above all it's the Fall, from the screaming keyboards of the single 'Runaway Pram' to the fearsome rhythms of 'Jonny Bentham's Dilemma' and the jaunty rockabilly blues of 'I'm On the Booze Mama'. From jealousy to penile dysfunction to what happens when we're dead, Bluebeard's Rooms fearlessly confronts any subject with a dash of the black humour we all use to get through life. It wallows in the grime of urban life, a work of dirty minded genius.