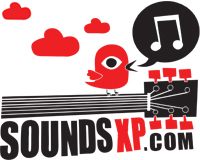 HOME
REVIEWS
albums
singles/downloads
gigs
demos
NEWS
INTERVIEWS
FREE MP3s
STREAMED MUSIC
MUSIC VIDEOS
FORUM
LINKS
ABOUT US
CONTACT US
SEARCH
- RSS Feed
SoundsXP Presents
Next show:

BAD FRIDAY!
Acts tbc

The Windmill, Brixton
Good Friday 2017, 3pm till late



On Our iPod
Latest Forum Posts
Support a good cause, see some great bands and win stuff!!
- replies (0)
Masonics + Baron Four + Ye Nuns + raffle!
- replies (0)
End of the Road 2016 - hits and misses
- replies (1)
17/9 Walthamstow Festival Indie Alldayer - Free!
- replies (0)
RIP David Bowie
- replies (7)
7/9 LDN Steven James Adams+Papernut Cambridge+Bill Botting
- replies (0)
Sat 6 Aug, London - Shake The Shacklewell IV
- replies (0)
Sounds XP Masters Fantasy league 2016/17
- replies (0)
LDN 20/8 Miracle Legion + Darren Hayman @ Oslo, Hackney
- replies (0)
LDN 22/7 Martha + Trust Fund + Neurotic Fiction @ The Dome
- replies (0)
Die! Die! Die!




Harmony

Smalltown America

Article written by Matt H - Apr 4, 2013

As Oblivious Oblivion kicks this album off it sounds a bit like Dunedin's Die! Die! Die! are having trouble making up their minds whether they want to be early 90s shoegazers or go back a further 10 years to deliver metallic post-punk hectoring. Then, on the title track they go and pull off the unlikely trick of managing to meld both together successfully. So it threatens to be a little disappointing when for much of the rest of the album they plump pretty firmly for the post-punk option.

But they make a damn good fist of it, employing their hard edged noise to the service of some more than serviceable pop-tinged racket. And as abruptly as it went away the more complex noise comes back – Twitching Sunshine carried along on an insistent static drone and Get Back playing out over a backing that morphs from yowling mbv guitar to circular saw noise and back again. It's a thoroughly fine way to round off an impressively promising album.