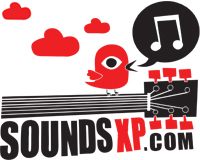 HOME
REVIEWS
albums
singles/downloads
gigs
demos
NEWS
INTERVIEWS
FREE MP3s
STREAMED MUSIC
MUSIC VIDEOS
FORUM
LINKS
ABOUT US
CONTACT US
SEARCH
- RSS Feed
SoundsXP Presents
Next show:

BAD FRIDAY!
Acts tbc

The Windmill, Brixton
Good Friday 2017, 3pm till late



On Our iPod
Latest Forum Posts
Where did everyone go?
- replies (0)
Support a good cause, see some great bands and win stuff!!
- replies (0)
Masonics + Baron Four + Ye Nuns + raffle!
- replies (0)
End of the Road 2016 - hits and misses
- replies (1)
17/9 Walthamstow Festival Indie Alldayer - Free!
- replies (0)
RIP David Bowie
- replies (7)
7/9 LDN Steven James Adams+Papernut Cambridge+Bill Botting
- replies (0)
Sat 6 Aug, London - Shake The Shacklewell IV
- replies (0)
Sounds XP Masters Fantasy league 2016/17
- replies (0)
LDN 20/8 Miracle Legion + Darren Hayman @ Oslo, Hackney
- replies (0)
Mike Marlin




Man On The Ground

AMP Music Productions

Article written by Tom B - Jan 29, 2012

I have been spinning a number of tribute albums lately ranging from American Laundromat's "Please, Please, Please" vinyl and CD tribute to The Smiths to the full album cover of New Orders "Power, Corruption and Lies" given away with the current issue of Mojo. However after just four songs here I was somewhat perplexed as I could not remember picking up a tribute album to The National, a band I haven't heard in years but who are pretty distinctive none the less. Of course I jest as there is no such thing. However Mike Marlin's second album bears an uncanny resemblance to that band's music and he does sound remarkably like frontman Matt Berninger.

Is that a negative? Well not for this first time listener of Marlin's work it isn't and whilst researching more about him it comes as no surprise that he cites them as an influence. However I hear more than just plain ol' mimicking on Man On The Ground which contains more 1980s style miserablism than you can shake a stick at which, given Marlin's history of alcoholism and depression mentioned on his website, shouldn't be unexpected. Additionally some of the songwriting and/or arrangements reminds me of Nick Cave whilst other parts of the album hint at the likes of the Red House Painters.

As previously hinted at the music is melancholic (and pretty with it too!) and coupled with both Marlin's sombre vocals and excellent writing makes these songs pretty entertaining. Highlights include recent single and album opener "The Magician", the lovely Steve McQueen and the catchy The Girl From Chelsea Bridge which gets bonus points for the line "when I hear Rattlesnakes on the radio...."

Normally I would dismiss music like this as destined for the coffee table but Man On The Ground has been a constant and welcome companion during the grey, bleak January commutes. I suggest you take it on a journey with you too.