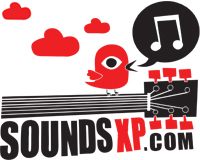 HOME
REVIEWS
albums
singles/downloads
gigs
demos
NEWS
INTERVIEWS
FREE MP3s
STREAMED MUSIC
MUSIC VIDEOS
FORUM
LINKS
ABOUT US
CONTACT US
SEARCH
- RSS Feed
SoundsXP Presents
Next show:

BAD FRIDAY!
Acts tbc

The Windmill, Brixton
Good Friday 2017, 3pm till late



On Our iPod
Latest Forum Posts
Support a good cause, see some great bands and win stuff!!
- replies (0)
Masonics + Baron Four + Ye Nuns + raffle!
- replies (0)
End of the Road 2016 - hits and misses
- replies (1)
17/9 Walthamstow Festival Indie Alldayer - Free!
- replies (0)
RIP David Bowie
- replies (7)
7/9 LDN Steven James Adams+Papernut Cambridge+Bill Botting
- replies (0)
Sat 6 Aug, London - Shake The Shacklewell IV
- replies (0)
Sounds XP Masters Fantasy league 2016/17
- replies (0)
LDN 20/8 Miracle Legion + Darren Hayman @ Oslo, Hackney
- replies (0)
LDN 22/7 Martha + Trust Fund + Neurotic Fiction @ The Dome
- replies (0)
Best Coast/ Yuck/ Philadelphia Grand Jury




Jericho Tavern, Oxford, Madame Jo Jos, London

Article written by - May 19, 2010

Imagine sun-seared surf-pop drenched in reverb rather than sunscreen and referencing sixties broken-hearted girlpop. This is Best Coast whose dreamy love songs to boys, California and getting high are set to soundtrack what passes for a summer here. The music on record so far has been hazy, lo-fi and lovely and gets a sonic boost live with Bobb Bruno on guitar and the Vivian Girls' Ali Koehler on drums. Old songs and new songs tumble out, like the homesick 'Faraway', a cover of Lesley Gore's lonesome 1964 single 'That's the Way Boys Are' and the mind-meltingly woozy 'Sun Was High (and So Was I)'. The songs are short, fast and over too soon but the memory tingles like sunburn. There are plenty of bands with a similar sound now but this might just be the best.

Londoners Yuck are in love with guitars, their melodic pop reminding me of Teenage Fanclub (a good thing), but left me scratching my head over their constant namechecking of the much less worthy A Grave With No Name. Their blog has some really good songs ('Suicide Policeman' is a cracker that combines style and substance) but this live show is less memorable (except for the drummer's fabulous Afro) and leaves little for you to whistle later on the no 73 homebound.

Philadelphia Grant Jury, who despite the spoof announcements are two Australians and one African-American, are quirky visually as well as to the ears: three of the non-popstarriest guys you could ever see (shades of the Young Knives), called Berkfinger, MC Bad Genius and Calvin. They play catchy pop rock with nutty titles like 'Going To The Casino (Tomorrow Night)' and 'I Don't Want To Party (Party)', plus a bizarre cover of Jay Z's '99 Problems' with the MC running amok in the audience. It's not bad on one hearing but I have suspicions that the wackiness is a cover for eventually unleashing the sort of careerist shit-pop that the morbidly unfunny We Are Scientists have inflicted on the world.