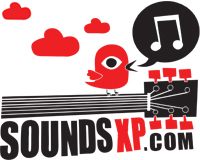 HOME
REVIEWS
albums
singles/downloads
gigs
demos
NEWS
INTERVIEWS
FREE MP3s
STREAMED MUSIC
MUSIC VIDEOS
FORUM
LINKS
ABOUT US
CONTACT US
SEARCH
- RSS Feed
SoundsXP Presents
Next show:

BAD FRIDAY!
Acts tbc

The Windmill, Brixton
Good Friday 2017, 3pm till late



On Our iPod
Latest Forum Posts
Where did everyone go?
- replies (0)
Support a good cause, see some great bands and win stuff!!
- replies (0)
Masonics + Baron Four + Ye Nuns + raffle!
- replies (0)
End of the Road 2016 - hits and misses
- replies (1)
17/9 Walthamstow Festival Indie Alldayer - Free!
- replies (0)
RIP David Bowie
- replies (7)
7/9 LDN Steven James Adams+Papernut Cambridge+Bill Botting
- replies (0)
Sat 6 Aug, London - Shake The Shacklewell IV
- replies (0)
Sounds XP Masters Fantasy league 2016/17
- replies (0)
LDN 20/8 Miracle Legion + Darren Hayman @ Oslo, Hackney
- replies (0)
Rosie Taylor Project/ Women's Hour/ Owl and Mouse




London, Lexington

Article written by Ged M - Feb 27, 2012

You only have to compare the encore 'A Good Cafe On George Street' with earlier live expositions or the original album version to see how far the Rosie Taylor Project have come. It breathes life, no longer tentative and shyly observational but full of bold colour (and blasts of breezy trumpet). The Twin Beds album launch shows the band proud and confident, the very opposite of twee (although Jonny earlier shyly confides that he does actually own 2 boxsets of the OC). The gig – which is pretty heaving full for a Monday night – rightly showcases the excellent album, demonstrating their ability to turn a hand to most things now, from the evocative Americana of 'Gloria' to the skittery funk notes of 'Lovers Or Something Like It' and the swaying confident rhythms of 'Every Morning', spilling guitar notes and bursts of trumpet in a crazy pattern. A pretty impressive performance.

Women's Hour don't quite live up to expectations. Having loved the first single 'Jenni', it was a pleasure to hear it open the set with its twinkly Afrobeat melodies. But then the mood darkens as the sound becomes evocative of the 1980s, all drum machines, skittery rhythms and guitars awash with astringent reserve. It could be Miaow or some other late Factory band but I was hoping for more than this.

Owl and Mouse is led by Australian Hannah Botting, sister of Moustache of Insanity and Allo Darlin's Bill. There's a tone in her voice that's both tender and vulnerable and reminds you of Allo Darlin's Elizabeth Morris - and she also plays the ukulele. Her songs might be small and pretty (especially 'Streetlights') but they're bold too; one fillets the best bits of New Order's 'Temptation' while another hymns the delights of Mariah Carey and Jens Lekman. Not even technical difficulties prevent her from winding up her set with a tribute to Whitney Houston which is sincere if only half remembered! Hannah and friends have a considerable charm that is well worth catching.