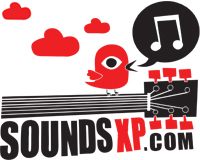 HOME
REVIEWS
albums
singles/downloads
gigs
demos
NEWS
INTERVIEWS
FREE MP3s
STREAMED MUSIC
MUSIC VIDEOS
FORUM
LINKS
ABOUT US
CONTACT US
SEARCH
- RSS Feed
SoundsXP Presents
On Our iPod
Latest Forum Posts
Where is Milchman?
- replies (16)
Shannon & The Clams London, Brighton, Newcastle & Leeds
- replies (3)
Sounds XP Pub Crawl 13th March 2014 - LDN
- replies (4)
The Next Soiree
- replies (18)
Spam
- replies (65)
The new telly thread
- replies (10)
New Music Every Day
- replies (1291)
7 Mar Fortuna POP! Alldayer @ The Shacklewell Arms, London
- replies (0)
PLEASE READ
- replies (6)
R.I.P Steve Strange
- replies (1)
Time to get lubricated with debut from Girl One and the Grease Guns




Article written by Paul M - Feb 14, 2013

The latest release on Squirrel Records will be the debut 7" single from Girl One And The Grease Guns, which will be out 11th March.

Titled Driving Without Headlights (Once Again) and backed by (I'm a) Willing Receiver, it will be available on 7".

Here's what has been said about the release: "Driving Without Headlights (Once Again) is pure hook laden POP!! It wouldn't be out of place on The Human League's Dare album, Yazoo's Upstairs At Eric's, or Depeche Mode's Speak And Spell. Chugging along with a catchy keyboard riff, this one will get in your head and remain there. The flipside, (I'm A) Willing Receiver is something a little different. We're still in pop territory here, but it's not as straightforward as all that. Powered along on a drumbeat that is somewhat reminiscent of the classic single Warm Leatherette by The Normal, and with strange sounds and deliberately skewed vocals throughout, the whole thing explodes at the end in a cacophony of noise the likes of which we haven't heard around these parts since the days of The Manhattan Love Suicides."