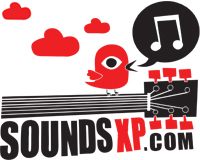 HOME
REVIEWS
albums
singles/downloads
gigs
demos
NEWS
INTERVIEWS
FREE MP3s
STREAMED MUSIC
MUSIC VIDEOS
FORUM
LINKS
ABOUT US
CONTACT US
SEARCH
- RSS Feed
SoundsXP Presents
Next show:

BAD FRIDAY!
Acts tbc

The Windmill, Brixton
Good Friday 2017, 3pm till late



On Our iPod
Latest Forum Posts
Support a good cause, see some great bands and win stuff!!
- replies (0)
Masonics + Baron Four + Ye Nuns + raffle!
- replies (0)
End of the Road 2016 - hits and misses
- replies (1)
17/9 Walthamstow Festival Indie Alldayer - Free!
- replies (0)
RIP David Bowie
- replies (7)
7/9 LDN Steven James Adams+Papernut Cambridge+Bill Botting
- replies (0)
Sat 6 Aug, London - Shake The Shacklewell IV
- replies (0)
Sounds XP Masters Fantasy league 2016/17
- replies (0)
LDN 20/8 Miracle Legion + Darren Hayman @ Oslo, Hackney
- replies (0)
LDN 22/7 Martha + Trust Fund + Neurotic Fiction @ The Dome
- replies (0)
Fashoda Crisis




The Jowls of Justice EP

Article written by Matt H - Feb 17, 2013

The narrative of rock music likes to pretend there are eras with genres springing up every so often to replace each other. In fact, while things might disappear off the general radar, most continue. Not just with old bands soldiering on, but with new ones carrying the torch. The late 80s/early 90s hardcore scene which melted into the vast shadow of grunge has proved peculiarly obdurate, with Future of The Left's modified take, and Kong's less than frequent appearances perhaps its most obvious descendants over in the UK.

But there's a few more knocking around proving that there's plenty to be squeezed of the sound yet. On its eastern wing are Fashoda Crisis. This latest EP has them in confident, strident and refreshingly earnest political form. As with earlier efforts there's a polished 'proper metal' edge to their loping loud/quiet moshtastic riffery which makes them especially worthy of repeated listening. And here it's married to a real theatrical gusto to the vocals which adds an important element of fun. So, whilst it's a little bit self-defeating to bemoan people not valuing your music when you choose to holler at people in a way that most people really, genuinely don't like, there's plenty who do like that sort of thing. And for us Fashoda Crisis will do very nicely indeed.