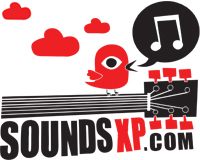 HOME
REVIEWS
albums
singles/downloads
gigs
demos
NEWS
INTERVIEWS
FREE MP3s
STREAMED MUSIC
MUSIC VIDEOS
FORUM
LINKS
ABOUT US
CONTACT US
SEARCH
- RSS Feed
SoundsXP Presents
Next show:

BAD FRIDAY!
Acts tbc

The Windmill, Brixton
Good Friday 2017, 3pm till late



On Our iPod
Latest Forum Posts
Where did everyone go?
- replies (0)
Support a good cause, see some great bands and win stuff!!
- replies (0)
Masonics + Baron Four + Ye Nuns + raffle!
- replies (0)
End of the Road 2016 - hits and misses
- replies (1)
17/9 Walthamstow Festival Indie Alldayer - Free!
- replies (0)
RIP David Bowie
- replies (7)
7/9 LDN Steven James Adams+Papernut Cambridge+Bill Botting
- replies (0)
Sat 6 Aug, London - Shake The Shacklewell IV
- replies (0)
Sounds XP Masters Fantasy league 2016/17
- replies (0)
LDN 20/8 Miracle Legion + Darren Hayman @ Oslo, Hackney
- replies (0)
Jens Lekman




An Argument with Myself

Secretly Canadian

Article written by Ged M - Oct 24, 2011

The title track is a bit of a departure for Jens Lekman. It has the usual perverse wit and sense of romantic melancholy but it has rubber hips, full of slinky West African rhythms. It's been likened to 'Graceland' but Paul Simon never had such mordant observations ("the backpackers are pouring out on a tidal wave of vomit") set to such infectious, danceable, tinkling guitar figures. Even the mock-reggae interlude doesn't put a dampener on things. The subject of 'Waiting For Kirsten' is presumably Ms Dunst, judging by the Von Trier reference. This is quirky indiepop telling the story of unsuccessfully chasing Kirsten, including to a club in egalitarian Gothenburg: "I can't believe nobody told her in Gothenburg we don't have VIP lines". This is a 5 track EP and other tracks include a romantic string-laden ballad for a sick friend, trumpeting indiepop with a funky bent, and a sly tale with a shuffling reggae beat. Not all of these tracks work as well as the others but there's a satisfying diversity and the title track is one of the best things he's every recorded.