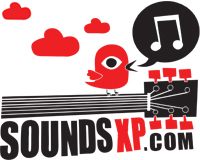 HOME
REVIEWS
albums
singles/downloads
gigs
demos
NEWS
INTERVIEWS
FREE MP3s
STREAMED MUSIC
MUSIC VIDEOS
FORUM
LINKS
ABOUT US
CONTACT US
SEARCH
- RSS Feed
SoundsXP Presents
Next show:

BAD FRIDAY!
Acts tbc

The Windmill, Brixton
Good Friday 2017, 3pm till late



On Our iPod
Latest Forum Posts
Support a good cause, see some great bands and win stuff!!
- replies (0)
Masonics + Baron Four + Ye Nuns + raffle!
- replies (0)
End of the Road 2016 - hits and misses
- replies (1)
17/9 Walthamstow Festival Indie Alldayer - Free!
- replies (0)
RIP David Bowie
- replies (7)
7/9 LDN Steven James Adams+Papernut Cambridge+Bill Botting
- replies (0)
Sat 6 Aug, London - Shake The Shacklewell IV
- replies (0)
Sounds XP Masters Fantasy league 2016/17
- replies (0)
LDN 20/8 Miracle Legion + Darren Hayman @ Oslo, Hackney
- replies (0)
LDN 22/7 Martha + Trust Fund + Neurotic Fiction @ The Dome
- replies (0)
The Folk




Say It Again EP

Bandcamp

Article written by Kev W - Jun 27, 2012

Seeing a band name like The Folk, you begin to build an idea of what they sound like before even hearing a note of the music. Why hasn't there been a folk band called The Folk before? (Or has there? Answers on a postcard...) Anyway, it turns out that the initial picture your mind paints from seeing such a moniker is, in this case, incorrect. The Folk aren't particularly folky at all, making a rather more substantial and dynamic form of alt-rock that's electric instead of wooden and somewhat less traditional than you may expect. 'Say It Again' is their second release following a debut at the end of 2011 and acts as a suitable piece of promotion for their first headline tour later this year.

'Rules Of Youth' uses thundering drums and gentle fuzz to conjure up a gutsy and atmospheric opening and you instantly realise they're made of pretty stern stuff. 'When I Go Away' is quite possibly the best song here, although it's a close call, building on the moody beginning with shoegazey guitars and surging percussive swells. Vocally there's no lack of passion, with all three tracks being delivered like they mean it. The title-track also shows they mean business and feels like the result of genuine attention to detail and careful songcraft. For something so seemingly simple it's developed brilliantly, to wring as much potential from the song as possible. It's quite a sound and if they can nail it in the live arena as well as they can on record then those upcoming gigs are not to be missed.