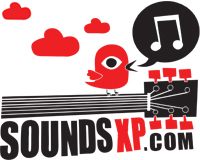 HOME
REVIEWS
albums
singles/downloads
gigs
demos
NEWS
INTERVIEWS
FREE MP3s
STREAMED MUSIC
MUSIC VIDEOS
FORUM
LINKS
ABOUT US
CONTACT US
SEARCH
- RSS Feed
SoundsXP Presents
On Our iPod
Latest Forum Posts
Where is Milchman?
- replies (17)
Sounds XP Pub Crawl 13th March 2014 - LDN
- replies (4)
The Next Soiree
- replies (18)
Spam
- replies (65)
The new telly thread
- replies (10)
New Music Every Day
- replies (1291)
7 Mar Fortuna POP! Alldayer @ The Shacklewell Arms, London
- replies (0)
PLEASE READ
- replies (6)
R.I.P Steve Strange
- replies (1)
Best fictional music acts.
- replies (26)
The Purrs




Rotting On The Vine

Fin Records 7"

Article written by Ged M - Jan 17, 2013

The Purrs, from Seattle, have been going a decade but this is the first we've heard from them. We're impressed, though, by the mix of melodic psych-pop and guitar-heavy shoegaze on this single. 'Rotting On the Vine' is effervescent psych-pop with some biting lyrics to go with the catchy choruses; a generous helping of fuzzy wah-wah guitars rounds off three-and-a-half minutes of serotonin-stimulating pop. 'You, The Medicine And Me' switches to a darker track: male, then female, voices succeed each other as the chugging, heavy-psych sound is replaced by effects-laden guitars strobing like supernovas. There's method in the madness, though and the intense interplay leaves you woozier than a session on the Night Nurse. A good advert for forthcoming album The Boy With Astronaut Eyes then.