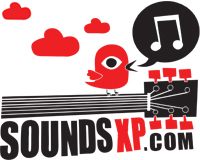 HOME
REVIEWS
albums
singles/downloads
gigs
demos
NEWS
INTERVIEWS
FREE MP3s
STREAMED MUSIC
MUSIC VIDEOS
FORUM
LINKS
ABOUT US
CONTACT US
SEARCH
- RSS Feed
SoundsXP Presents
Next show:

BAD FRIDAY!
Acts tbc

The Windmill, Brixton
Good Friday 2017, 3pm till late



On Our iPod
Latest Forum Posts
Where did everyone go?
- replies (1)
Support a good cause, see some great bands and win stuff!!
- replies (0)
Masonics + Baron Four + Ye Nuns + raffle!
- replies (0)
End of the Road 2016 - hits and misses
- replies (1)
17/9 Walthamstow Festival Indie Alldayer - Free!
- replies (0)
RIP David Bowie
- replies (7)
7/9 LDN Steven James Adams+Papernut Cambridge+Bill Botting
- replies (0)
Sat 6 Aug, London - Shake The Shacklewell IV
- replies (0)
Sounds XP Masters Fantasy league 2016/17
- replies (0)
LDN 20/8 Miracle Legion + Darren Hayman @ Oslo, Hackney
- replies (0)
David Cronenberg's Wife




The Fight Song EP

Blang

Article written by Matt H - May 29, 2009

A touch less sleazy than their debut single (you really had to wash after that one, though it's reprised here in slightly less icky style). David Cronenberg's Wife are still throwing a harsh unblinking light on the bits of life you'd be pleased never to experience (again).

Over loping rhythm and twanging guitar a vocal missing only the '-ah' from the end of each line, The Fight Song pokes into the dingier corners of relationships. Suicide - Stretch Out is more philosophical - offering you a false choice: faced with a coming train are you a pusher or a jumper?(though by co-incidence in China this week a couple of blokes pretty much answered the question...). Me? I just get on it, with this sort of thing on my headphones...

Some people write songs you wish you'd written. David Cronenberg's Wife write the songs you're glad you never thought of. Someone has to.