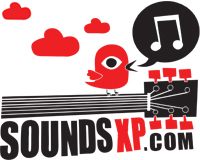 HOME
REVIEWS
albums
singles/downloads
gigs
demos
NEWS
INTERVIEWS
FREE MP3s
STREAMED MUSIC
MUSIC VIDEOS
FORUM
LINKS
ABOUT US
CONTACT US
SEARCH
- RSS Feed
SoundsXP Presents
Next show:

BAD FRIDAY!
Acts tbc

The Windmill, Brixton
Good Friday 2017, 3pm till late



On Our iPod
Latest Forum Posts
Where did everyone go?
- replies (0)
Support a good cause, see some great bands and win stuff!!
- replies (0)
Masonics + Baron Four + Ye Nuns + raffle!
- replies (0)
End of the Road 2016 - hits and misses
- replies (1)
17/9 Walthamstow Festival Indie Alldayer - Free!
- replies (0)
RIP David Bowie
- replies (7)
7/9 LDN Steven James Adams+Papernut Cambridge+Bill Botting
- replies (0)
Sat 6 Aug, London - Shake The Shacklewell IV
- replies (0)
Sounds XP Masters Fantasy league 2016/17
- replies (0)
LDN 20/8 Miracle Legion + Darren Hayman @ Oslo, Hackney
- replies (0)
.J. Holmes and The Hackney Empire




Soft Power

Singing Dune Records

Article written by Ged M - Jul 13, 2015

Proof that London is a world city like no other, Soft Power – the second album by A.J Holmes and The Hackney Empire - combines African guitar styles with funk moves and lyrics of observational acuity that sound like Ian Dury or Jarvis Cocker if he were born in Shoreditch not Sheffield. A.J. Holmes grew up in Barking and Dagenham and then moved to Hackney in 1999 where he became neighbours with Sierra Leonian musician Folo Graff (S.E. Rogie Band, Orchestra Jazira and author of several practical guides to African guitar styles). The result is clearest here on 'Martyn's Elephant Charm', a brilliant blend of chattering African highlife guitar sounds and a very English witty litany of superstitions. Opening song 'The Revolution Will Not Be Twitterised' also takes African rhythms and adds them to lyrics satirising the lack of political opposition these days, though naturally less poetically than Gil Scott-Heron did.

The mastery of styles puts you in mind of the Blockheads and Madness. The spiritual home of this music is David Byrne's Luaka Bop label, and 'Vanishing Breed' has a touch of Talking Heads in its dance moves, and a seriously funky bassline. 'Mein Liebster Feind' is a great pun ("my best fiend") but the chorus is too much like the motivational slogans that the simple-minded like to exchange on Facebook. 'CLA' rescues things at the end with some funky dance-pop, a few Kool and the Gang moves and more comic lines. It's diverse, it's very danceable, it's funny and it fuses different styles without much effort. It's a fine record but – and a look at their videos confirms this - it's also music that cries out to be heard live.