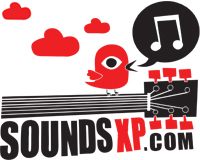 HOME
REVIEWS
albums
singles/downloads
gigs
demos
NEWS
INTERVIEWS
FREE MP3s
STREAMED MUSIC
MUSIC VIDEOS
FORUM
LINKS
ABOUT US
CONTACT US
SEARCH
- RSS Feed
SoundsXP Presents
Next show:

BAD FRIDAY!
Acts tbc

The Windmill, Brixton
Good Friday 2017, 3pm till late



On Our iPod
Latest Forum Posts
Where did everyone go?
- replies (0)
Support a good cause, see some great bands and win stuff!!
- replies (0)
Masonics + Baron Four + Ye Nuns + raffle!
- replies (0)
End of the Road 2016 - hits and misses
- replies (1)
17/9 Walthamstow Festival Indie Alldayer - Free!
- replies (0)
RIP David Bowie
- replies (7)
7/9 LDN Steven James Adams+Papernut Cambridge+Bill Botting
- replies (0)
Sat 6 Aug, London - Shake The Shacklewell IV
- replies (0)
Sounds XP Masters Fantasy league 2016/17
- replies (0)
LDN 20/8 Miracle Legion + Darren Hayman @ Oslo, Hackney
- replies (0)
Automat




Plusminus

Bureau B

Article written by Ged M - Jun 25, 2015

Last April we reviewed their debut album and were impressed by this German dance music that drew on different styles like post-punk, industrial, techno and dub, with various guest singers. This follow up focuses on the latter styles to make 8 tracks of dubby and trancey space-pop with minimal vocals. For electronica, there's much to admire, though mostly you'll be admiring it though a haze of semi-consciousness, such is the hypnotic spell this music carries. 'Plusminus' is a powerful techno-tune with a mesmerising motorik rhythm while 'Achtung' is bass-heavy dub with whooshing synths that would sound agreeably fizzy on a hot day. Meanwhile 'DMX15-80S' is a glitschy space-age tune and 'EMT140' is long (7 minutes) of meditative space-shifting synth pop. Note how many of the tunes have musical meaning; 'EMT140' is a two metre long reverb plate while 'H910' is the model of harmoniser used on Bowie's Low, here attached to a chilled and rhythmic Grace Jones-style dub.

It's dense and machined like the first record but here the odd splice of techno and dub sounds addictively hypnotic. They still impress.