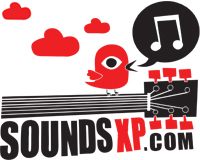 HOME
REVIEWS
albums
singles/downloads
gigs
demos
NEWS
INTERVIEWS
FREE MP3s
STREAMED MUSIC
MUSIC VIDEOS
FORUM
LINKS
ABOUT US
CONTACT US
SEARCH
- RSS Feed
SoundsXP Presents
On Our iPod
Latest Forum Posts
The Next Soiree
- replies (3)
The new movie thread
- replies (200)
Wild Smiles Southampton Thurs 29 Jan
- replies (2)
Tarting up the site
- replies (4)
A classic a day
- replies (2433)
New Material By Bands We Like
- replies (17)
R.I.P. Cherry Wainer
- replies (4)
Gigs of the year 2014
- replies (4)
Spam
- replies (64)
A Cover Version A day
- replies (363)
Avrocar




Against the Dying of the Light

Make Mine Music

Article written by Ged M - Feb 22, 2009

Around since the 90s and championed by John Peel, Birmingham's Avrocar make late-night wind-down ambient sounds wrapped around radio samples. The drone-tone effect is organic and comforting rather than jarringly mechanical; on tracks like the repetitive 'IAC' and the soundtrack-ish 'Dialogue' they're like a mix of Brian Eno and the BBC Radiophonic Workshop while the courtly 'From An Adjacent Field' is an elegant recitation of a list of colours afloat on a wash of electronica. The album was recorded in near darkness and sessions lasted into the wee small hours, which is the best way to hear their music.