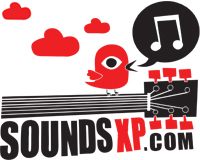 HOME
REVIEWS
albums
singles/downloads
gigs
demos
NEWS
INTERVIEWS
FREE MP3s
STREAMED MUSIC
MUSIC VIDEOS
FORUM
LINKS
ABOUT US
CONTACT US
SEARCH
- RSS Feed
SoundsXP Presents
Next show:

BAD FRIDAY!
Acts tbc

The Windmill, Brixton
Good Friday 2017, 3pm till late



On Our iPod
Latest Forum Posts
Support a good cause, see some great bands and win stuff!!
- replies (0)
Masonics + Baron Four + Ye Nuns + raffle!
- replies (0)
End of the Road 2016 - hits and misses
- replies (1)
17/9 Walthamstow Festival Indie Alldayer - Free!
- replies (0)
RIP David Bowie
- replies (7)
7/9 LDN Steven James Adams+Papernut Cambridge+Bill Botting
- replies (0)
Sat 6 Aug, London - Shake The Shacklewell IV
- replies (0)
Sounds XP Masters Fantasy league 2016/17
- replies (0)
LDN 20/8 Miracle Legion + Darren Hayman @ Oslo, Hackney
- replies (0)
LDN 22/7 Martha + Trust Fund + Neurotic Fiction @ The Dome
- replies (0)
David Cronenberg's Wife




Don't Wait To Be Hunted To Hide

Blang Records!

Article written by Ged M - Dec 7, 2012

There's a darkness to DCW's third record that's intense and at times quite harrowing – anything but comfort music. But it's the job of the artist to challenge and shed light on things that we shy away from, and there's no reticence on the part of DCW. The cover painting by Goya (himself famous for commenting on the mores of his society) anticipates the ghastly grotesques that you'll encounter when playing the record. But it's not always gruelling: the songs might be lyrically tough but they've adorned with some great riffs and rhythms.

First though is the music; DCW knit darkness into persuasive patterns, like the careering rockabilly rhythms of the Fall-ish 'Pain Ahead!' or the clanging, slightly discordant tones of 'Lonelyman' that brings to mind the Bad Seeds. Like that band, DCW are skilled at interpreting the lyrical moods of their singer, which is helped by the fact that Tom Mayne sounds part Nick Cave and part Mark E Smith, especially in his delivery. But Mayne goes further than them in the fearlessness of his lyrics.

If there's a unifying theme it's the nastiness of men. A series of songs describes the sorts of man that you don't want to meet, from 'Spiked's date rapist to the amoral abuser who picks up drunk teenagers in 'The Pied Piper of Maidenhead'. The hardest listen is 'For Laura Kingsman' which is the delusional confession of a Jimmy Saville type. You could describe it as a Dylanish folk song with lyrics out of a police interview: "don't say she was coerced/ I was the weak one and she the strong". It's first person but it's not personal – Mayne's skill, like Vladimir Nabakov or Neil LeBute, is to create a convincing character who can say the most unpleasant things and cause a reaction. Saville's probably DJing with it in Hell.

It's a refreshingly brave record for these paranoid times and the combination of challenging social commentary and great tunes make it an occasionally tough listen but a vital one. This is proper independent music – in production, distribution and vision.