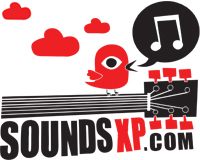 HOME
REVIEWS
albums
singles/downloads
gigs
demos
NEWS
INTERVIEWS
FREE MP3s
STREAMED MUSIC
MUSIC VIDEOS
FORUM
LINKS
ABOUT US
CONTACT US
SEARCH
- RSS Feed
SoundsXP Presents
Next show:

BAD FRIDAY!
Acts tbc

The Windmill, Brixton
Good Friday 2017, 3pm till late



On Our iPod
Latest Forum Posts
Where did everyone go?
- replies (0)
Support a good cause, see some great bands and win stuff!!
- replies (0)
Masonics + Baron Four + Ye Nuns + raffle!
- replies (0)
End of the Road 2016 - hits and misses
- replies (1)
17/9 Walthamstow Festival Indie Alldayer - Free!
- replies (0)
RIP David Bowie
- replies (7)
7/9 LDN Steven James Adams+Papernut Cambridge+Bill Botting
- replies (0)
Sat 6 Aug, London - Shake The Shacklewell IV
- replies (0)
Sounds XP Masters Fantasy league 2016/17
- replies (0)
LDN 20/8 Miracle Legion + Darren Hayman @ Oslo, Hackney
- replies (0)
Downpilot




Radio Ghost

Tapete Records

Article written by Ged M - Oct 11, 2015

Seattle-based Paul Hiraga was so inspired by the story of his Japanese-American father's wartime internment on the California-Nevada border that he built his album (his first for 4 years) around reflections on the past as he revisited the Old West to consider some of the less familiar stories there. 'Day of the Long Sun' is the internment camp story, a dusty desert tale full of jangly guitars, while 'My Paper Sons' describes Chinese labourers forging citizenship papers after the 1906 San Francisco earthquake. The latter is evocative and atmospheric, though unnecessarily stretched out to way over 5 minutes. 'Hallowed Ground' has a quiet buildup and sighing violin but with sufficient tearjerking emotion to water the parched ground it recreates.

The music has a rootsy Californian feel, full of chiming guitars and sweet melodic touches, though there's a lack of variety and a similar pace through most of the record. That's why the bookends stand out: there's a little Buffalo Springfield and even more Crowded House in the hook-crammed album opener 'Radio Ghost', the liveliest song here, while album closer 'Suzanne (The Silence)' is melodic, multi-layered and mildly trippy. Hiraga recorded the bulk of the record himself, on mainly analogue instruments, which gives a satisfyingly authentic sound but the songs themselves don't have a similar effect.