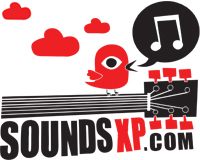 HOME
REVIEWS
albums
singles/downloads
gigs
demos
NEWS
INTERVIEWS
FREE MP3s
STREAMED MUSIC
MUSIC VIDEOS
FORUM
LINKS
ABOUT US
CONTACT US
SEARCH
- RSS Feed
SoundsXP Presents
Next show:

BAD FRIDAY!
Acts tbc

The Windmill, Brixton
Good Friday 2017, 3pm till late



On Our iPod
Latest Forum Posts
Where did everyone go?
- replies (0)
Support a good cause, see some great bands and win stuff!!
- replies (0)
Masonics + Baron Four + Ye Nuns + raffle!
- replies (0)
End of the Road 2016 - hits and misses
- replies (1)
17/9 Walthamstow Festival Indie Alldayer - Free!
- replies (0)
RIP David Bowie
- replies (7)
7/9 LDN Steven James Adams+Papernut Cambridge+Bill Botting
- replies (0)
Sat 6 Aug, London - Shake The Shacklewell IV
- replies (0)
Sounds XP Masters Fantasy league 2016/17
- replies (0)
LDN 20/8 Miracle Legion + Darren Hayman @ Oslo, Hackney
- replies (0)
Joel Sarakula




The Imposter

We Are Elevate Records

Article written by Ged M - Nov 18, 2015

Sometimes you can be so musically literate it doesn't translate to the record. Joel Sarakula is a London-based but Sydney born songwriter who puts together slick sounding music from a swathe of pop and soul influences. There's the retro-soul 'When The Summer Ends', with its skittery guitar and brass echoes of Average White Band and Stevie Wonder, a slinky Fleetwood Mac soundalike on 'European Skies', and the tone of Harry Nilsson on the balladic pop of 'Hypnotised'. It's accomplished but it lives too much on its influences and 'Stay (If You Need Me)' is modern soul so polished to the point of pastiche that it could be a favourite on Jools Holland's lazy music show. There's goodness though – 'They Can't Catch Me' is Todd Rundgren mixing rock and a Northern Soul rhythm and the excellent track 'Northern Soul' (the best choice of single) isn't actually of that genre but more like 70s orchestral pop with clever wordplay: "I wanna touch your Northern soul".

He's a knowledgeable guy whose second album will impress with its breadth of influences but will always come up a little short on originality and the thrill of discovery.