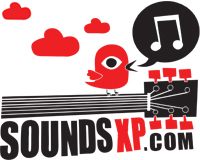 HOME
REVIEWS
albums
singles/downloads
gigs
demos
NEWS
INTERVIEWS
FREE MP3s
STREAMED MUSIC
MUSIC VIDEOS
FORUM
LINKS
ABOUT US
CONTACT US
SEARCH
- RSS Feed
SoundsXP Presents
Next show:
BAD FRIDAY!
Peluché,
Dead Coast,
Les Sueques,
Calva Louise,
Flights of Helios,
Videocean,
Dirty Blondes
+ SoundsXP DJs
The Windmill, Brixton
Good Friday, 14th April 2017
3pm till late
Buy tickets
here
On Our iPod
Latest Forum Posts
Where did everyone go?
- replies (4)
Bands visiting the UK
- replies (2)
Support a good cause, see some great bands and win stuff!!
- replies (0)
Masonics + Baron Four + Ye Nuns + raffle!
- replies (0)
End of the Road 2016 - hits and misses
- replies (1)
17/9 Walthamstow Festival Indie Alldayer - Free!
- replies (0)
RIP David Bowie
- replies (7)
7/9 LDN Steven James Adams+Papernut Cambridge+Bill Botting
- replies (0)
Sat 6 Aug, London - Shake The Shacklewell IV
- replies (0)
Sounds XP Masters Fantasy league 2016/17
- replies (0)
MJ Hibbett & The Validators




Still Valid

Artists Against Success

Article written by Ged M - Jul 4, 2016

Indiepop. It's not a career, it's a community. There's fun if not fame, gigs if not glory, cult status if not stardom. And that's the theme of 'We Did It Anyway', the closing track on Mark Hibbett's sixth studio album (tenth album in total) with his Validators. To borrow the title of that cheap 60s EMI Records' imprint, this is simply "music for pleasure".

Mark's a bit of a renaissance man (not quite a Leonardo): songwriter, playwright and aspiring Poet Laureate of Peterborough, who writes and records in a pure DIY way. His reputation, which has been building over the 17 years since his first release, has grown to the point where he now has his own tribute festival, Hibbettfest. In fact, he's a bit of a cult.

His popularity among those that know him is well earned. He gives good value if you like words but he has a way with melody too. He tells prosaic tales from middle England but he makes the everyday extraordinary. Check how he takes down those Channel 4 clipshows and demystifies the 1980s in 'The 1980s How It Was', reminding you that, for all the alternative comedy and New Romantics, we were only 3 minutes from nuclear midnight on the Doomsday Clock.

His targets are picked off clinically but comically. He rails against the stereotypical sexist male monster in 'That Guy', who pontificates over culture ("comparing One Direction to Chaucer"), is cautious over curry, and is left "masturbating in a skip", while he punctures political posturing in 'Burn It Down And Start Again', in piss-taking but effective style. Satire's hard but he makes it look easy, washing down every barbed line with a melodic musical shot.

His versatile Validators provide solid back up. 'You Make Me Feel (Soft Rock)' is an exuberant love song, incorporating the only use of "wazzock" in modern pop, which only makes it sound more authentic. '20 Things To Do Before You're 30' is catchy indiepop and 'In The North Stand' is an affecting description of lower division football as a distraction from parental separation, with sighing violin, trumpet blasts and some sweet melodic touches. The same violin soars on the epic 'Hills And Hollows', turning the band into an East Midlands Arcade Fire, and transforming hills into mountains in a celebration of everyday Englishness.

And that's the job of Hibbett. He's one of us, hymning the simple pleasures but doing so in ways that set you smiling. As long as he does that, he's a positive force in pop - a national treasure with a regional accent.