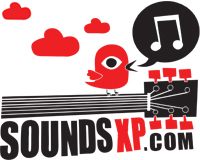 HOME
REVIEWS
albums
singles/downloads
gigs
demos
NEWS
INTERVIEWS
FREE MP3s
STREAMED MUSIC
MUSIC VIDEOS
FORUM
LINKS
ABOUT US
CONTACT US
SEARCH
- RSS Feed
SoundsXP Presents
Next show:

BAD FRIDAY!
Acts tbc

The Windmill, Brixton
Good Friday 2017, 3pm till late



On Our iPod
Latest Forum Posts
Where did everyone go?
- replies (0)
Support a good cause, see some great bands and win stuff!!
- replies (0)
Masonics + Baron Four + Ye Nuns + raffle!
- replies (0)
End of the Road 2016 - hits and misses
- replies (1)
17/9 Walthamstow Festival Indie Alldayer - Free!
- replies (0)
RIP David Bowie
- replies (7)
7/9 LDN Steven James Adams+Papernut Cambridge+Bill Botting
- replies (0)
Sat 6 Aug, London - Shake The Shacklewell IV
- replies (0)
Sounds XP Masters Fantasy league 2016/17
- replies (0)
LDN 20/8 Miracle Legion + Darren Hayman @ Oslo, Hackney
- replies (0)
Mammoth Penguins




Hide And Seek

Fortuna Pop! Records

Article written by Ged M - Aug 8, 2015

Mammoth Penguins is the band Emma Kupa founded in Cambridge after Standard Fare, teaming up with Mark Boxall (bass) and Tom Barden (drums). Their debut album contains 12 songs of grungy anthemic powerpop full of sexual politics, relationships and regrets, reflecting an older outlook that bruises as easily as its younger version. 'When I Was Your Age' is one of those wise-after-the-event tales, the narrator claiming victories including "toured with Blondie…practiced polyamory" before concluding in disappointed tones "I'm 28 years old now. What do I get to show?...I'm going nowhere". 'We Won't Go There' is a skilful game of flirty fishing, Emma hooking her catch in something over 4 minutes with some suggestive wordplay and finishing in a hail of guitar noise. 'Cries At The Movies' (titles are pretty literal in describing what happens in the song) is a gorgeous song-portrait of a woman who only shows her emotions in films and the slacker-pop riffing 'Hermit' regrets a failure to communicate with someone who had dropped off the social radar.

While the lyrics reflect the concerns of your late-20s, struggling with all the demands of adulthood, the music has no such restrains. 'Strength In My Legs' might wish "to get to you sooner" but the song is constantly building up and bursting in a shower of infectious guitar riffs, while 'Propped Up' was rightly chosen as a lead single for its anthemic chorus and lyric about others helping to avoid negative thoughts.

Mammoth Penguins isn't so big a step from Standard Fare; the same honest songwriting and same anthemic guitar pop, likely to hit the same chord with the punters and critics alike. The liveliest and most absorbing 36 indiepop minutes we've heard in a long while.