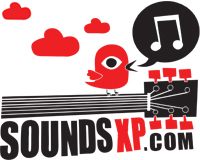 HOME
REVIEWS
albums
singles/downloads
gigs
demos
NEWS
INTERVIEWS
FREE MP3s
STREAMED MUSIC
MUSIC VIDEOS
FORUM
LINKS
ABOUT US
CONTACT US
SEARCH
- RSS Feed
SoundsXP Presents
Next show:

BAD FRIDAY!
Acts tbc

The Windmill, Brixton
Good Friday 2017, 3pm till late



On Our iPod
Latest Forum Posts
Where did everyone go?
- replies (0)
Support a good cause, see some great bands and win stuff!!
- replies (0)
Masonics + Baron Four + Ye Nuns + raffle!
- replies (0)
End of the Road 2016 - hits and misses
- replies (1)
17/9 Walthamstow Festival Indie Alldayer - Free!
- replies (0)
RIP David Bowie
- replies (7)
7/9 LDN Steven James Adams+Papernut Cambridge+Bill Botting
- replies (0)
Sat 6 Aug, London - Shake The Shacklewell IV
- replies (0)
Sounds XP Masters Fantasy league 2016/17
- replies (0)
LDN 20/8 Miracle Legion + Darren Hayman @ Oslo, Hackney
- replies (0)
Math And Physics Club




In This Together

Fika Recordings

Article written by Ged M - Jun 13, 2016

Subtitled 'EPs, B-Sides, Rarities and Unreleased Songs 2005-2015', this white vinyl LP collects rare and up-till-now unreleased songs produced by this Pacific Northwestern band in the first ten years of their existence. The twist is that the songs are in reverse chronological order so it goes from the sweetly melodic REM-style janglepop-with-sumptuous-harmonies of 'Coastal California, 1985' back to the Sarah Records inspired 'Weekends Away' from their debut EP (a different kind of jangle). Between those points you hear a indiepop band, inspired by (working backwards) The Lucksmiths, the Smiths, Belle & Sebastian and the Field Mice, with Charles Bert's voice sounding compellingly Morrissey-esque.

That voice fits the literate and thoughtful lyrics. They might be concerned with the romantic ignorance of youth - "what did we know? We were just sixteen and pretty" ('Sixteen And Pretty') – but they're expressed without any of the tongue-tied inarticulacy of the teenager. The Lucksmiths-like 'Our Own Ending' packs an ocean of melancholy within its grooves, swept along by waves of gloriously downbeat violin. And imagine a male analogue of Amelia Fletcher lyrically, producing twisted love songs free of cliché, as on 'Movie Ending Romance'. Dispelling the gloom though is the joyous indiepoppy 'It Must Be Summer Somewhere' with its tremulous guitar and sun-chasing: "Rock Lobster on the radio…those girls in the wild bikinis…"

The band has a geeky name, and the songs can stray into a sort of fey indie Belle & Sebastian stereotype with titles to match ('Do You Keep A Diary?') but there's also something stirring and anthemic in the best of these sweetly melodic, heartfelt and life-affirming songs that keeps you hooked on every word and chord change. It's pop without cynicism, familiar in its sound but attractive all the same.