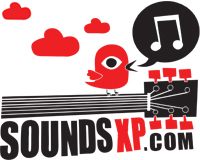 HOME
REVIEWS
albums
singles/downloads
gigs
demos
NEWS
INTERVIEWS
FREE MP3s
STREAMED MUSIC
MUSIC VIDEOS
FORUM
LINKS
ABOUT US
CONTACT US
SEARCH
- RSS Feed
SoundsXP Presents
Next show:

BAD FRIDAY!
Acts tbc

The Windmill, Brixton
Good Friday 2017, 3pm till late



On Our iPod
Latest Forum Posts
Where did everyone go?
- replies (0)
Support a good cause, see some great bands and win stuff!!
- replies (0)
Masonics + Baron Four + Ye Nuns + raffle!
- replies (0)
End of the Road 2016 - hits and misses
- replies (1)
17/9 Walthamstow Festival Indie Alldayer - Free!
- replies (0)
RIP David Bowie
- replies (7)
7/9 LDN Steven James Adams+Papernut Cambridge+Bill Botting
- replies (0)
Sat 6 Aug, London - Shake The Shacklewell IV
- replies (0)
Sounds XP Masters Fantasy league 2016/17
- replies (0)
LDN 20/8 Miracle Legion + Darren Hayman @ Oslo, Hackney
- replies (0)
Novella




Land

Sinderlyn Records

Article written by Ged M - Aug 5, 2015

They've been around for a while (since the start of the decade, to be exact) but the now 5 piece from London have produced an album of hazy-psych, post-punk and shoegaze that has many moments of brilliance.

The post-punk, Wire-echoing 'Follow' is confident enough not to bring in the vocals until after 2 minutes, such is the attraction of the chiming guitars and hypnotic rhythm; 'Long Gone' is quicksilver alt-rock in the vein of Throwing Muses; 'Blue Swallows' is awash with sound effects and a big, catchy chorus and then takes an Alice-down-the-rabbit-hole twist into crazy psychedelia; and 'Skies Open' is floaty shoegaze, while bonus track 'North Carolina' is full of chiming and reverby guitars before it floats to another level on gorgeous call and response vocals.

Lush is an obvious comparison and there's something in Land that revives that 90s guitar sound (while simultaneously nodding to 60s psych). The album at times doesn't escape the gravitational attraction of its influences and gets bogged down in the prosaic but they slip the surly bonds of earth often enough - and the abovementioned songs offer plenty of proof – to make Land's long awaited arrival well worth checking out.