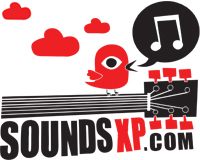 HOME
REVIEWS
albums
singles/downloads
gigs
demos
NEWS
INTERVIEWS
FREE MP3s
STREAMED MUSIC
MUSIC VIDEOS
FORUM
LINKS
ABOUT US
CONTACT US
SEARCH
- RSS Feed
SoundsXP Presents
Next show:

BAD FRIDAY!
Acts tbc

The Windmill, Brixton
Good Friday 2017, 3pm till late



On Our iPod
Latest Forum Posts
Where did everyone go?
- replies (0)
Support a good cause, see some great bands and win stuff!!
- replies (0)
Masonics + Baron Four + Ye Nuns + raffle!
- replies (0)
End of the Road 2016 - hits and misses
- replies (1)
17/9 Walthamstow Festival Indie Alldayer - Free!
- replies (0)
RIP David Bowie
- replies (7)
7/9 LDN Steven James Adams+Papernut Cambridge+Bill Botting
- replies (0)
Sat 6 Aug, London - Shake The Shacklewell IV
- replies (0)
Sounds XP Masters Fantasy league 2016/17
- replies (0)
LDN 20/8 Miracle Legion + Darren Hayman @ Oslo, Hackney
- replies (0)
R Stevie Moore




Lo Fi Hi Fives

O Genesis Recordings

Article written by Ged M - Aug 25, 2012

A Trouser Press review in 1976 described Robert Steven Moore's first album as "an outrageous collection of musical brain spewage" and thirty-six years and 400+ releases later, this is still true. He's the poster boy of outsider music, constantly home-recording music and releasing it through a plethora of labels or on his website (over 200 downloadable albums). Now championed by Ariel Pink, the Vaccines - who released a split single on Record Store Day with him - and Charlatans' Tim Burgess, whose label is releasing this compilation, he's receiving serious attention at last.

Working in a record shop, and the son of a Nashville musician, he's absorbed countless influences and synthesised them in his songs but, rather than replicate, everything is a slightly woozy version of something else, as seen through the RSM filter. 'Pop Music' is a George Harrison tune with blasts of brass and 'Big Mistake' like a narcotised Nirvana just before submitting to oblivion. 'Another Day Slips Away' is the sort of whimsical psych pop that Andy Partridge has been fooling round with for decades while 'Here Comes Summer Again' is a crude copy of the Beach Boys, deadly accurate in its elements but a bit off in execution.

It's very well recorded (the "lo-fi" of the title misleads) but it's not surprising that he's always occupied the periphery. He has quotable lines for reviewers ("how much more music can we take?" he asks in 'Showbiz is Dead') and he has reportable collaborations (although 'Dutch Me', his co-write with Ariel Pink, is fey New-Romantic nonsense) but effectively this is musical painting-by-numbers on a huge scale. Fun and listenable - the raw powerpop of 'Why Should I Love You' stands out - but this is the very definition of cult.