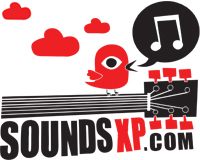 HOME
REVIEWS
albums
singles/downloads
gigs
demos
NEWS
INTERVIEWS
FREE MP3s
STREAMED MUSIC
MUSIC VIDEOS
FORUM
LINKS
ABOUT US
CONTACT US
SEARCH
- RSS Feed
SoundsXP Presents
Next show:

BAD FRIDAY!
Acts tbc

The Windmill, Brixton
Good Friday 2017, 3pm till late



On Our iPod
Latest Forum Posts
Support a good cause, see some great bands and win stuff!!
- replies (0)
Masonics + Baron Four + Ye Nuns + raffle!
- replies (0)
End of the Road 2016 - hits and misses
- replies (1)
17/9 Walthamstow Festival Indie Alldayer - Free!
- replies (0)
RIP David Bowie
- replies (7)
7/9 LDN Steven James Adams+Papernut Cambridge+Bill Botting
- replies (0)
Sat 6 Aug, London - Shake The Shacklewell IV
- replies (0)
Sounds XP Masters Fantasy league 2016/17
- replies (0)
LDN 20/8 Miracle Legion + Darren Hayman @ Oslo, Hackney
- replies (0)
LDN 22/7 Martha + Trust Fund + Neurotic Fiction @ The Dome
- replies (0)
Reid Paley Trio




Approximate Hellhound vs The Monkey Demon

Metaphor Records

Article written by Ged M - Aug 20, 2007

Going by the sleeve you expect the sound of Gallon Drunk or even the Stray Cats from this New York three-piece who take pains to identify their instruments precisely (Czechoslovakian upright bass, electric archtop guitar, trap kit) but as soon as Reid Paley sings you realise there's something else in the mix. Theirs is a jazz-blues-rockabilly sound topped by an ugly-beautiful voice that's a blend of Nick Cave with laryngitis, Tom Waits and Louis Armstrong. It's so distinctive that it takes a while for your listening organs to balance the gruff, hoarse voice with the excellent playing but the vocals fits perfectly with the honestly drunk blues of 'Stay Awhile' or the funny/profane 'Yr Polish Uncle'. That song displays the other good thing about this record, the foul-mouthed and dark wit that produces lines like "shut your mouth and you'll piss yourself a story/ about the spastic monkey and the whore" over a frenetic rock'n'roll rhythm that will have your spitting your dinner over the stereo in mirth.