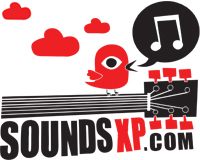 HOME
REVIEWS
albums
singles/downloads
gigs
demos
NEWS
INTERVIEWS
FREE MP3s
STREAMED MUSIC
MUSIC VIDEOS
FORUM
LINKS
ABOUT US
CONTACT US
SEARCH
- RSS Feed
SoundsXP Presents
Next show:

BAD FRIDAY!
Acts tbc

The Windmill, Brixton
Good Friday 2017, 3pm till late



On Our iPod
Latest Forum Posts
Where did everyone go?
- replies (0)
Support a good cause, see some great bands and win stuff!!
- replies (0)
Masonics + Baron Four + Ye Nuns + raffle!
- replies (0)
End of the Road 2016 - hits and misses
- replies (1)
17/9 Walthamstow Festival Indie Alldayer - Free!
- replies (0)
RIP David Bowie
- replies (7)
7/9 LDN Steven James Adams+Papernut Cambridge+Bill Botting
- replies (0)
Sat 6 Aug, London - Shake The Shacklewell IV
- replies (0)
Sounds XP Masters Fantasy league 2016/17
- replies (0)
LDN 20/8 Miracle Legion + Darren Hayman @ Oslo, Hackney
- replies (0)
The Loungs




Short Cuts

Fresh Hair Records

Article written by Mary B - Oct 5, 2015

What I love about The Loungs is their ability to churn out album after album, year after year, with no long gaps. I am, of course, being sarcastic as it has taken five years since their last effort (2010's the superb 'Big Wow') for them to grace us with 'Short Cuts'.

Never without a sense of humour, the title of the album is probably a nod towards the St Helens band's sporadic music output.

Like an old friend you have not seen for a long time, you slip so easily back into that Loungs' distinct lo-fi guitar sound. How I have missed it. How I have missed them. It stomps straight to your heart and takes you on a magical journey of strings and melodies. Every song is a winner. No fast forward button needed.

The opening song 'Waves And Smiles' begins with a haunting piano and sea effects for a matter of seconds and it makes me wonder if this is going to be a darker sounding album than the past two efforts. Then it descends into the crazy, upbeat sound that I have always associated with them. Songs like 'Bop' are a perfect example of what The Loungs do best: catchy little numbers executed in what seems to be an effortless fashion.

The second track on the album 'Everything Is Great' is happiness trapped in a song: "we're going to teach the lonely people how to smile". I have now seen the video to support it, written alongside the legend that is Jim Noir. It is unique and adorable, rather like the band.

'Route 23' is probably the catchiest song on the album. It's probably the catchiest song on any album out there at the moment. It is the perfect antidote to the Autumn nights as they draw in. It is summer in song form. As the vocals cry out "she grew to like me" over and over again you can see why. I have played it multiple times. It deserves to fill the airwaves and will surely be the next single from the album.

The song that follows, 'Short Cuts', almost has a country twang at the beginning of it and reminds me of what I love about this band. They experiment with sound and the results are always a delight to the ears.

Songs like 'Radiate' and 'Side By Side' have a more mature and melancholy sound to them as does the beautifully soothing 'There He Is'. 'How To Give Your Heart Away And Keep It' has got some lovely little melodies in it and would not be out of place on a Beatles album.

The closing track, 'End Of An Era' is a fitting end to what is the best Loungs album to date. The old Loungs sound is still evident in 'Short Cuts' but there is a more definite direction to the finished result. It already has a place in my top ten albums of 2015 and is staying there. It will be unleashed on the public on the 6th November. Lucky public.

So in conclusion, was it worth the wait? Of course it was but do not leave it half a decade for the next one, lads. They have promised to play a host of gigs to promote 'Short Cuts' and it would be lovely to hear the album live, perhaps blended in with some Loungs classics. Catch them if you can.

Long live 'Short Cuts'. Long live The Loungs.