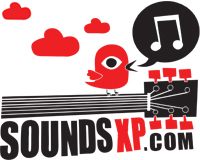 HOME
REVIEWS
albums
singles/downloads
gigs
demos
NEWS
INTERVIEWS
FREE MP3s
STREAMED MUSIC
MUSIC VIDEOS
FORUM
LINKS
ABOUT US
CONTACT US
SEARCH
- RSS Feed
SoundsXP Presents
Next show:

BAD FRIDAY!
Acts tbc

The Windmill, Brixton
Good Friday 2017, 3pm till late



On Our iPod
Latest Forum Posts
Where did everyone go?
- replies (0)
Support a good cause, see some great bands and win stuff!!
- replies (0)
Masonics + Baron Four + Ye Nuns + raffle!
- replies (0)
End of the Road 2016 - hits and misses
- replies (1)
17/9 Walthamstow Festival Indie Alldayer - Free!
- replies (0)
RIP David Bowie
- replies (7)
7/9 LDN Steven James Adams+Papernut Cambridge+Bill Botting
- replies (0)
Sat 6 Aug, London - Shake The Shacklewell IV
- replies (0)
Sounds XP Masters Fantasy league 2016/17
- replies (0)
LDN 20/8 Miracle Legion + Darren Hayman @ Oslo, Hackney
- replies (0)
Simon Love




It Seemed Like A Good Idea At The Time

Fortuna Pop! Records

Article written by Ged M - Jul 13, 2015

Simon Love is very good at writing pop songs. That was obvious from his output with the Loves but this album is even better proof - he seems to have been saving all his best ideas for his first solo record. And he's very, very good at swearing. Those two things don't always go together, and he won't get the airplay he deserves as a result, but don't let the odd "cocksucking, motherfucking dirty word" (from the otherwise poptastic '**** Is A Four Letter Word') stop you enjoying a remarkably intelligent pop record, chock-full of top tunes.

It doesn't look expensive (no recording at Abbey Road) but it sounds like it, an ambitious project with great arrangements and a breathtaking collation of classic pop moves. For example, Stewart Lee recounts Wikipedia facts about love over crazed mod-pop rhythms on 'The Meaning of Love', Lee's role as king of indie-comedy and the relatively restrained language meaning that this will probably be the song to get all the attention. But really tracks like 'You Kiss Your Mother With That Mouth' (a glammed-up Doug Yule led Velvet Underground), the unrestrained children's TV theme music of 'Wowie Zowie' and the baroque-pop-meets-girl-group title track (complete with the wacky tones of DJ Emperor Rosko, one of the few DJs not to be of interest to Operation Yewtree) deserve as much ear-time.

There's a brilliantly arranged and sophisticated version of Paul McCartney's 'Dear Boy' (the original was far more ramshackle) while 'Sweetheart You Should Probably Go To Sleep' is melancholy 60s pop with stately, sweeping string arrangements. And rising above all else are 'Motherfuckers', a magnificent revenge song that we already know and love from an earlier single, and the standout 'Elton John', a gorgeous 70s orchestral ballad with a transcendent chorus, telling the story from the point of view of Renata Blauel, his wife during his brief flirtation with heterosexual marriage. It would be good enough for an Ivor Novello award until Simon drops a sneaky c-bomb and you reach the devastating refrain: "you're fucking men/ and I'm fucking alone again".

It's not all perfect; in the traditions of his hero McCartney, he includes a comedy castration song 'My Dick' that works once and is best forgotten. But apart from that, it's a serious work with a lightness of touch that turns out to be one of the funniest and most profound pop platters in a long time.