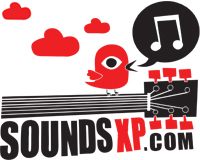 HOME
REVIEWS
albums
singles/downloads
gigs
demos
NEWS
INTERVIEWS
FREE MP3s
STREAMED MUSIC
MUSIC VIDEOS
FORUM
LINKS
ABOUT US
CONTACT US
SEARCH
- RSS Feed
SoundsXP Presents
Next show:

BAD FRIDAY!
Acts tbc

The Windmill, Brixton
Good Friday 2017, 3pm till late



On Our iPod
Latest Forum Posts
Where did everyone go?
- replies (0)
Support a good cause, see some great bands and win stuff!!
- replies (0)
Masonics + Baron Four + Ye Nuns + raffle!
- replies (0)
End of the Road 2016 - hits and misses
- replies (1)
17/9 Walthamstow Festival Indie Alldayer - Free!
- replies (0)
RIP David Bowie
- replies (7)
7/9 LDN Steven James Adams+Papernut Cambridge+Bill Botting
- replies (0)
Sat 6 Aug, London - Shake The Shacklewell IV
- replies (0)
Sounds XP Masters Fantasy league 2016/17
- replies (0)
LDN 20/8 Miracle Legion + Darren Hayman @ Oslo, Hackney
- replies (0)
Slow Down Tallahassee




The Beautiful Light

Thee Sheffield Phonographic Corporation

Article written by Matt H - May 15, 2008

Thee SPC and the bands it supports have been causing me a problem over the last few months. They keep enticing me to reach for superlatives only to go and raise the bar a few weeks later. I've gone through three thesauruses and such is the quality of this album from Slow Down Tallahassee I reckon I'm going to be making words up before the summer's out.

The Tallahassee girls (and guy) announced themsleves a while back with the magnificent So Much for Love single and there can be no objection to all three of the songs on that getting an airing here too. They set the template of beautifully crafted, light-as-air but largely dark-hearted, bubblegum indie pop - fuzzy guitars chiming with up lifting synths and handclap rhythms. You could listen to them all day and that goes for every one of the 14 songs on the album. The title track provides a glorious wall of sound and adds spooky organ sounds to back the portrait of a damaged psyche -butter-wouldn't-melt vocals delivering the first of many lyrical kicks. "I'm surrounded by parasites and the scum of the earth" indeed. Down the Alleyway immediately raises the stakes with a soaring synth part that could burst all but the hardest heart, even as the protaganist throws herself at a lover she just knows is going to do her wrong.

For all the pure-pop perfection of the tunes, those razor blades and brickbats are plentiful; culminating in the self-explanatory, almost South Parkesque, A Little Hex for You (OK so it's not quite "Shut your fucking face uncle fucker", but it's not that far off). And when they're missing there's a surprisingly direct physicality that recalls some of those early Pixies lyrics. Kiss Me Again especially is bordering on the downright filthy, for all the playground simplicity of its tune. But (as they say on the shopping channels) that's not all! They also treat us to the exquisite Limbs which soars in stately fashion over a classical piano part, and the equally lovely The Prettiest Tree as a closer.

You want comparisons? Well, I could give you Camera Obscura, the Breeders, Absentee and any number of 60s girl groups or, less so, My Bloody Valentine the Mary Chain. It'd stand up against all of them but it's all of its own too. Heart-lifting, bruised and bruising in equal measure, it deserves to be the soundtrack to your summer. Sod the thesauruses, this is just fucking great.