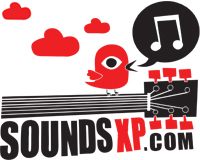 HOME
REVIEWS
albums
singles/downloads
gigs
demos
NEWS
INTERVIEWS
FREE MP3s
STREAMED MUSIC
MUSIC VIDEOS
FORUM
LINKS
ABOUT US
CONTACT US
SEARCH
- RSS Feed
SoundsXP Presents
Next show:

BAD FRIDAY!
Acts tbc

The Windmill, Brixton
Good Friday 2017, 3pm till late



On Our iPod
Latest Forum Posts
Support a good cause, see some great bands and win stuff!!
- replies (0)
Masonics + Baron Four + Ye Nuns + raffle!
- replies (0)
End of the Road 2016 - hits and misses
- replies (1)
17/9 Walthamstow Festival Indie Alldayer - Free!
- replies (0)
RIP David Bowie
- replies (7)
7/9 LDN Steven James Adams+Papernut Cambridge+Bill Botting
- replies (0)
Sat 6 Aug, London - Shake The Shacklewell IV
- replies (0)
Sounds XP Masters Fantasy league 2016/17
- replies (0)
LDN 20/8 Miracle Legion + Darren Hayman @ Oslo, Hackney
- replies (0)
LDN 22/7 Martha + Trust Fund + Neurotic Fiction @ The Dome
- replies (0)
Slushy Guts




The Bloop, Julia, Train, Slowdown, Whistle, Upsweep And All the While – The Hummmm

self-released

Article written by Ged M - Dec 7, 2012

"Rumoured to be the child of a toasted sandwich" is one of the WTF? lines in 'Foreign Familiar Blank Infinity' from Stephen Keane's latest album as Slushy Guts. It's full of such eccentric prose, non-sequiturs and headscratching humour that are worthy of Pavement in their 'Westing with Musket and Sextant' phase, not to mention an album title than reads like a tracklisting, and a tracklisting that reads like an abbreviated novel. There's a touch of early Sonic Youth too but the Pavement comparison holds up best, especially on the experimental 'A Nameless Dread' that mixes random field recordings, birdsong and coughing as if a mistake in leaving the recorder running has produced a piece of found art.

Mr Guts creates layers of elaboration from simple materials; in 'Foreign..' he plucks single guitar notes rhythmically as the songs metamorphoses into a weird, woozy melody, while he employs droning keyboards and a strangely twanging guitar on the multi-faceted 'You Have Got To Be In It To Win Anything'. But there's also a constant sense of entropy, where songs end suddenly or collapse into themselves, as if the strands that bind his songwriting are fragile and easily snapped. These are temporary pleasures.

Steve Keane's voice sounds world-weary, and quite mournful even, but after a couple of plays you start to warm to his existential gripes as he pleads: "I want to be dead inside too… just like you" ('Reflection Of An Echo'). It's helped by his deadpan humour. Even when he's envying the wealth of others and declaring that he won't work for other people, he's admitting: "I've never won anything in my life/ apart from a purple flannel from Gloria Hunniford/ aged nine" ('I Am The Universe…'). It's a curious listen but with an off-kilter charm; you're left feeling as if you've wandered into a carnival hall of mirrors full of simulacra of life that are sometimes plain weird but also weirdly welcoming.