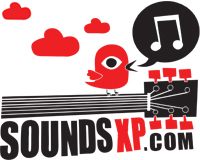 HOME
REVIEWS
albums
singles/downloads
gigs
demos
NEWS
INTERVIEWS
FREE MP3s
STREAMED MUSIC
MUSIC VIDEOS
FORUM
LINKS
ABOUT US
CONTACT US
SEARCH
- RSS Feed
SoundsXP Presents
Next show:

BAD FRIDAY!
Acts tbc

The Windmill, Brixton
Good Friday 2017, 3pm till late



On Our iPod
Latest Forum Posts
Where did everyone go?
- replies (0)
Support a good cause, see some great bands and win stuff!!
- replies (0)
Masonics + Baron Four + Ye Nuns + raffle!
- replies (0)
End of the Road 2016 - hits and misses
- replies (1)
17/9 Walthamstow Festival Indie Alldayer - Free!
- replies (0)
RIP David Bowie
- replies (7)
7/9 LDN Steven James Adams+Papernut Cambridge+Bill Botting
- replies (0)
Sat 6 Aug, London - Shake The Shacklewell IV
- replies (0)
Sounds XP Masters Fantasy league 2016/17
- replies (0)
LDN 20/8 Miracle Legion + Darren Hayman @ Oslo, Hackney
- replies (0)
Small Feet




From Far Enough Away Everything Sounds Like The Ocean

Control Freak Kitten Records

Article written by Ged M - Sep 16, 2015

Recorded in a log cabin on a small island off central Stockholm, Small Feet's debut album of Americana is remarkable principally for Simon Stålhamre's voice – a powerful falsetto that cuts through the dense textures laid down by American ex-pat Jacob Snavely (bass) and drummer Christopher Cantillo. There's a strong Neil Young influence and a little of Woods' pastoral musings in the Small Feet sound (Stålhamre himself sounds a lot like Jeremy Earl).

Stålhamre was a poor student in school and learned all his English from American shows on cable TV, seemingly picking up an apocalyptic vocabulary; 'Gold' has a certain melancholy that expands into a momentous epic, demanding: "just split the stone and hand me the gold" while he admits on 'Palm Trees' that "sometimes I worry about the future" and "the savages have won now" in a mournful Scott Walker-ish tone. It's only the melodic pop-rock of 'Backwards Falconer' that breaks the "we're all doomed" stylings of From Far Enough Away… and lightens the overall tone. The introspective, heartfelt Americana of their record, while not to everyone's taste (especially Stålhamre's voice) mark them out from a lot of their peers.