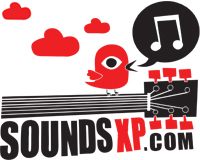 HOME
REVIEWS
albums
singles/downloads
gigs
demos
NEWS
INTERVIEWS
FREE MP3s
STREAMED MUSIC
MUSIC VIDEOS
FORUM
LINKS
ABOUT US
CONTACT US
SEARCH
- RSS Feed
SoundsXP Presents
Next show:

BAD FRIDAY!
Acts tbc

The Windmill, Brixton
Good Friday 2017, 3pm till late



On Our iPod
Latest Forum Posts
Where did everyone go?
- replies (0)
Support a good cause, see some great bands and win stuff!!
- replies (0)
Masonics + Baron Four + Ye Nuns + raffle!
- replies (0)
End of the Road 2016 - hits and misses
- replies (1)
17/9 Walthamstow Festival Indie Alldayer - Free!
- replies (0)
RIP David Bowie
- replies (7)
7/9 LDN Steven James Adams+Papernut Cambridge+Bill Botting
- replies (0)
Sat 6 Aug, London - Shake The Shacklewell IV
- replies (0)
Sounds XP Masters Fantasy league 2016/17
- replies (0)
LDN 20/8 Miracle Legion + Darren Hayman @ Oslo, Hackney
- replies (0)
The See See




Late Morning Light

Dell'Orso Records

Article written by Ged M - Feb 10, 2011

Stood at a See See gig, an acquaintance commented "they're a country-rock Oasis". I'm not sure whether that was praise or damnation but you can just about see-see the point (on 'Deceiver Retriever' especially): they've combined the familiar tropes of the past - country, folk and psychedelia, in their case - with an acute pop sensibility to create something that constantly echoes classic sounds but also has a catchy contemporary buzz. To give you an idea, readers of Uncut will rush out to buy copies while NME readers won't mind illegally downloading it.

The band know their stuff, with a history including the Soledad Brothers, Waxwings, The Eighteenth Day of May and solo work (Pete Greenwood's psych-folk stuff is truly awesome) and there are guest slots from Olivia Tremor Control's Bill Doss and Hush Arbors' Keith Wood. So expect to hear dreamy Elephant 6-ish psychedelic pop ('Powers of Ten'), jangly Byrds-isms ('Mary Soul') and harmonious Big Star pop ('That's My Sign'), as well as some stunning trippy diversions as Pete Greenwood (presumably) leads them down woozy sideroads (the way 'Mary Soul' dissolves into a psych-folk supernova is especially mindfucking). But essentially it's a pop record, from the gorgeous melodies of 'And I Wonder' to the staggering West Coast-meets-Merseybeat 'Half A Man and a Horse's Head'. Their four previous singles were all cracking (and they're all here, but are not necessarily the best songs) but that was just a teaser for the full-length. Maybe they won't play Knebworth, and I know for a fact they're not City fans, but music this good – with its full spread of mythic sound but as catchy as fuck - deserves and should get the widest hearing.