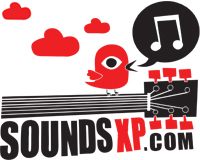 HOME
REVIEWS
albums
singles/downloads
gigs
demos
NEWS
INTERVIEWS
FREE MP3s
STREAMED MUSIC
MUSIC VIDEOS
FORUM
LINKS
ABOUT US
CONTACT US
SEARCH
- RSS Feed
SoundsXP Presents
Next show:

BAD FRIDAY!
Acts tbc

The Windmill, Brixton
Good Friday 2017, 3pm till late



On Our iPod
Latest Forum Posts
Where did everyone go?
- replies (0)
Support a good cause, see some great bands and win stuff!!
- replies (0)
Masonics + Baron Four + Ye Nuns + raffle!
- replies (0)
End of the Road 2016 - hits and misses
- replies (1)
17/9 Walthamstow Festival Indie Alldayer - Free!
- replies (0)
RIP David Bowie
- replies (7)
7/9 LDN Steven James Adams+Papernut Cambridge+Bill Botting
- replies (0)
Sat 6 Aug, London - Shake The Shacklewell IV
- replies (0)
Sounds XP Masters Fantasy league 2016/17
- replies (0)
LDN 20/8 Miracle Legion + Darren Hayman @ Oslo, Hackney
- replies (0)
The Spook School




Try To Be Hopeful

Fortuna Pop! Records

Article written by Ged M - Oct 11, 2015

The old cliché about the personal being political is writ large here. The second album by the Spook School largely deals with identity, sexuality and challenging long established norms. Clearly inspired by guitarist/ vocalist Nye Todd's own exploration of his trans identity, the focus of the songs evolves from critiques of sexual stereotyping and fixed expectations to optimism for a more general sense of self-love in the title track that closes the album. It's music made by, and aimed at, the young for whom identify is still fluid, purpose is as yet undefined, and the future seems both unbounded and crushingly rigid.

The key track is 'Binary', challenging assumptions about gender and sexuality with a rousing repeated chorus - "I am bigger than a hexadecimal" – that softens the didactic tone of the song. The punky-pop 'Burn Masculinity' pulses with righteous ire, while 'Richard and Judy' shoots down concepts of "heteronormativity" in schools and society with the defiant statement: "we don't need you to know that we exist/ to keep on going". Other tracks have more universal themes, such as the ecstatic first-love tale 'I Want To Kiss You' and 'August 17th''s ménage-a-trois storytelling but the record is more than pamphleteering thanks to the music: a mix of Hidden Cameras' political indiepop with Pixies' fearsome post-punk, Buzzcocks' love of melody and the Wedding Present's guitar frenzies. 'Richard and Judy' is riffy 90s guitar-rock while 'Speak When You're Spoken To' has big riffs against a fast and rhythmic backing, being all of the following: melodic, romantic, catchy yet spiky.

The record is breathless and celebratory while being assertive and challenging. It's fast and fizzy pop with an electrifying charge and an even stronger message, but one that's ultimately all about love and acceptance.