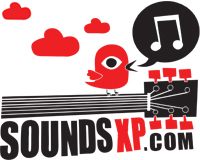 HOME
REVIEWS
albums
singles/downloads
gigs
demos
NEWS
INTERVIEWS
FREE MP3s
STREAMED MUSIC
MUSIC VIDEOS
FORUM
LINKS
ABOUT US
CONTACT US
SEARCH
- RSS Feed
SoundsXP Presents
Next show:
BAD FRIDAY!
Peluché,
Dead Coast,
Les Sueques,
Calva Louise,
Flights of Helios,
Videocean,
Dirty Blondes
+ SoundsXP DJs
The Windmill, Brixton
Good Friday, 14th April 2017
3pm till late
Buy tickets
here
On Our iPod
Latest Forum Posts
Where did everyone go?
- replies (4)
Bands visiting the UK
- replies (2)
Support a good cause, see some great bands and win stuff!!
- replies (0)
Masonics + Baron Four + Ye Nuns + raffle!
- replies (0)
End of the Road 2016 - hits and misses
- replies (1)
17/9 Walthamstow Festival Indie Alldayer - Free!
- replies (0)
RIP David Bowie
- replies (7)
7/9 LDN Steven James Adams+Papernut Cambridge+Bill Botting
- replies (0)
Sat 6 Aug, London - Shake The Shacklewell IV
- replies (0)
Sounds XP Masters Fantasy league 2016/17
- replies (0)
The Steinbecks




Kick To Kick With The Steinbecks

Matinee Recordings

Article written by Kev W - Apr 30, 2014

They've kept us hanging on, that's for sure. 'Kick To Kick...' is The Steinbecks' first album in seven years, but to be fair to them, Josh and Joel Meadows have delivered a lot of material since forming The Sugargliders back in 1989. Their second band has far outlived their first, but there's still a spirit of youth to the music they make, an also a healthy dose of nostalgia. 'I, Radio' acts as something of a centrepiece, being the longest, and one of the strongest songs here. The lyrics talk of the joys of radio and discovering music at a very young age via shortwave stations and the bands that first sparked their interest: The Cars, The Police, John Cougar Mellencamp... and then articulating quite beautifully the wonders that were found by playing around with the dial and stumbling upon independent stations that shunned playlists and major labels, introducing a whole new world of sound: Jonathan Richman, The Field Mice, The Chills, REM and more. These are the bands that would go on to influence their own tunes, and the passion in the vocals for both radio and music is as evident and strong now as it was then.

It's not the only time that The Steinbecks glance back and give props their musical heroes; Pavement, Suede, The Cure, The Smiths and others are referenced on 'Through The Curtain' with a cry of "we've got all the tunes, honey!". This album doesn't find the band living in the bubble of a John Peel radio show though. Maybe 'I, Radio' or 'Trying To Be Someone' could fall into that category, but that's no bad thing. The music is largely in the style you'd expect, but it sounds modern, not a contrived attempt to sound like they've just fallen off the back of a C86 tape. Take 'Below The Limen'; sure it has a hint of indiepop, but also takes in '90s alt-rock and a twist of '60s psych too. It's one of many highlights. Another stand-out is the driving 'Burning Holes In The Sun' which borrows a little from post-punk and a little from more modern guitar bands (it could even be a Supergrass cover); the title-track brings in some harmonies and buzzing guitar which makes it difficult not to think of early Teenage Fanclub.

'Kick To Kick...' is unmistakably Australian, with the strong accents never disguised in the way that some bands choose to do, but what should be singled out for praise the most is the strength of the songwriting. These are expertly-crafted indie tracks with a deft attention to detail that makes it all seem too easy. The contrast between the slower comeback single 'At Arkaroo Rock', the instant drum snap of more upbeat opener 'Homesickness' (aptly containing the line "it's said that absence makes the heart grow fonder") and grittier, more obvious single choice 'We cannot Hope To Compete With Such Colours' which sit either side of it show us from the off that they don't plan on picking an idea and sticking to it. The tender and brittle 'Semblance Of Hope' brings another shade to proceedings and is quite beautiful and heartfelt with it; 'Cold Little Bones' is very much in the same vein and equally endearing. It's good to have them back and in such fine fettle.