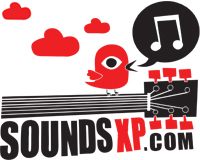 HOME
REVIEWS
albums
singles/downloads
gigs
demos
NEWS
INTERVIEWS
FREE MP3s
STREAMED MUSIC
MUSIC VIDEOS
FORUM
LINKS
ABOUT US
CONTACT US
SEARCH
- RSS Feed
SoundsXP Presents
Next show:

BAD FRIDAY!
Acts tbc

The Windmill, Brixton
Good Friday 2017, 3pm till late



On Our iPod
Latest Forum Posts
Where did everyone go?
- replies (0)
Support a good cause, see some great bands and win stuff!!
- replies (0)
Masonics + Baron Four + Ye Nuns + raffle!
- replies (0)
End of the Road 2016 - hits and misses
- replies (1)
17/9 Walthamstow Festival Indie Alldayer - Free!
- replies (0)
RIP David Bowie
- replies (7)
7/9 LDN Steven James Adams+Papernut Cambridge+Bill Botting
- replies (0)
Sat 6 Aug, London - Shake The Shacklewell IV
- replies (0)
Sounds XP Masters Fantasy league 2016/17
- replies (0)
LDN 20/8 Miracle Legion + Darren Hayman @ Oslo, Hackney
- replies (0)
Victoria and Jacob




Victoria and Jacob

Where's It's At Is Where You Are/ Fika Recordings

Article written by Ged M - Aug 14, 2013

Who pimped their ride? It's a surprise to hear how Victoria and Jacob have been souped up from sombre folkatronica to the full-on electro-pop experience but someone's done a very credible job. Jacob Mayfield and Victoria Harrison have made an album of big pop on a small label, which might gain wide appeal when people hear the likes of the blissful 'Festival' and the sparkly synths and dance-pop beats of 'Cry Baby'. At those times you're thinking Fleetwood Mac meets All Saints produced by Max Martin. However, there's something darker at work too; 'Theia Mania' is introspective and ethereal and 'Believe the Boy' is glitchy and Grimes-like while the plaintive and dark 'Desire' reminds you of Beach House, where the electronic rhythms are iced with vocals not too far from Victoria Legrand's haunted tones.

It's a way from what we usually listen to (we're not normally making recommendations to fans of Lykke Li, the Knife and Bat For Lashes) but you can't ignore intelligent pop and if this sounds too Radio One Roadshow and not indie enough, look for the remixes of 'Cry Baby' where Darren Hayman's dub-indiepop remix should be Anorak enough for you.