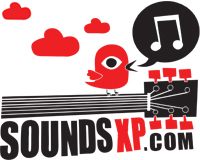 HOME
REVIEWS
albums
singles/downloads
gigs
demos
NEWS
INTERVIEWS
FREE MP3s
STREAMED MUSIC
MUSIC VIDEOS
FORUM
LINKS
ABOUT US
CONTACT US
SEARCH
- RSS Feed
SoundsXP Presents
Next show:

BAD FRIDAY!
Acts tbc

The Windmill, Brixton
Good Friday 2017, 3pm till late



On Our iPod
Latest Forum Posts
Where did everyone go?
- replies (0)
Support a good cause, see some great bands and win stuff!!
- replies (0)
Masonics + Baron Four + Ye Nuns + raffle!
- replies (0)
End of the Road 2016 - hits and misses
- replies (1)
17/9 Walthamstow Festival Indie Alldayer - Free!
- replies (0)
RIP David Bowie
- replies (7)
7/9 LDN Steven James Adams+Papernut Cambridge+Bill Botting
- replies (0)
Sat 6 Aug, London - Shake The Shacklewell IV
- replies (0)
Sounds XP Masters Fantasy league 2016/17
- replies (0)
LDN 20/8 Miracle Legion + Darren Hayman @ Oslo, Hackney
- replies (0)
digitalanalogue




Be Embraced, You Millions

Song, By Toad

Article written by Matt H - Apr 15, 2015

It's always a temptation when writing about a record to look to pick out its successes in reaching out, trying to impress, in making efforts speak to others. For all its qualities this digitalanalogue (a solo moniker for Broken Records' Ian Turnbull) doesn't do any of these. The 13 instrumental tracks here are introverted affairs, tied by title and feel to specific places and people – most obviously Turnbull's late mum.

At first listen the music follows a melancholy post-rock template, it'd sit comfortably alongside Mogwai's quieter moments (though there's a few fuzzed up swells). But there's something more stately and formal about the piano in particular which reins it back and makes it more of a self-contained artefact. The spare approach and use of voice samples and genuinely ambient sound evoke a sense of place and make it more akin to the sparse backing of Diamond Mine. And slowly, by being personal, by not reaching out, it draws you in to find the genuine warmth and loveliness within.