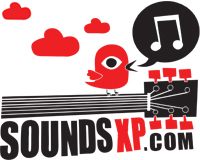 HOME
REVIEWS
albums
singles/downloads
gigs
demos
NEWS
INTERVIEWS
FREE MP3s
STREAMED MUSIC
MUSIC VIDEOS
FORUM
LINKS
ABOUT US
CONTACT US
SEARCH
- RSS Feed
SoundsXP Presents
Next show:

BAD FRIDAY!
Acts tbc

The Windmill, Brixton
Good Friday 2017, 3pm till late



On Our iPod
Latest Forum Posts
Support a good cause, see some great bands and win stuff!!
- replies (0)
Masonics + Baron Four + Ye Nuns + raffle!
- replies (0)
End of the Road 2016 - hits and misses
- replies (1)
17/9 Walthamstow Festival Indie Alldayer - Free!
- replies (0)
RIP David Bowie
- replies (7)
7/9 LDN Steven James Adams+Papernut Cambridge+Bill Botting
- replies (0)
Sat 6 Aug, London - Shake The Shacklewell IV
- replies (0)
Sounds XP Masters Fantasy league 2016/17
- replies (0)
LDN 20/8 Miracle Legion + Darren Hayman @ Oslo, Hackney
- replies (0)
LDN 22/7 Martha + Trust Fund + Neurotic Fiction @ The Dome
- replies (0)
Katsen




It Hertz!

Thee SPC

Article written by Matt H - Sep 24, 2009

At first glance it might seem odd for a Brighton duo to be appearing on Sheffield's finest label. But Katsen deal in the sort of now vintage electropop that has long been appreciated in South Yorkshire.

Let's Build a City sets the template. Its tinfoil drums and urgent keyboard runs and swells are so radiophonic that you can almost feel the static electricity crackling off it as you listen. With the deadpan but still yearning vocals, it's pristine hi-attitude pop music of the finest kind. From there Katsen layer on all sorts of other things. Chequered Flag sprinkles Atari and Nintendo incidentals liberally. I'm A Doctor is a groovy confection that takes its initial cue from the Doctor Who theme before shaking its arse off in a totally different direction. Drax whirrs and sparkles to fabulous effect. Elsewhere you get the odd snippets of guitar and piano to cut through the artificiality. When the adornments are cut back – such as on the fabulous Constellation, Where Nobody Can Find Us and the lovely closing Florian- they call to mind fellow pensive pure pop students like Morton Valence. Just to round things off they even find time to fit in that rarest of things, a decent Pixies cover. Cactus is instantly recognisable but the backing and deadpan vocal amplify the obsessive undertone to the original.

As an album It Hertz! is a studied and rather affected whole that is bound to cross the pretentiousness borderline for a fair number of people. And indeed Island in an Island, no matter how satirical its intent, could set off even the most insensitive alarms with its excessive wibblage. But anyone trying to go beyond the meat and potatoes of boys with guitars runs that risk, and Katsen mostly hit the mark. Because at its heart this is pop music and their effects are used to amplify rather than swamp the tunes, sometimes to heartburstingly lovely effect. Moreover, you suspect their tongue is not entirely out of their cheek and behind the icy façade and knob-twiddling there's a warmth and, dare I say it, sense of humour that defies the clichés of electronic music. An album that seems at first to be aiming to please the head ought in fact to capture any heart that's open to the delights of a pop tune.