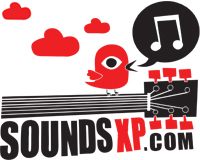 HOME
REVIEWS
albums
singles/downloads
gigs
demos
NEWS
INTERVIEWS
FREE MP3s
STREAMED MUSIC
MUSIC VIDEOS
FORUM
LINKS
ABOUT US
CONTACT US
SEARCH
- RSS Feed
SoundsXP Presents
Next show:

BAD FRIDAY!
Acts tbc

The Windmill, Brixton
Good Friday 2017, 3pm till late



On Our iPod
Latest Forum Posts
Where did everyone go?
- replies (1)
Support a good cause, see some great bands and win stuff!!
- replies (0)
Masonics + Baron Four + Ye Nuns + raffle!
- replies (0)
End of the Road 2016 - hits and misses
- replies (1)
17/9 Walthamstow Festival Indie Alldayer - Free!
- replies (0)
RIP David Bowie
- replies (7)
7/9 LDN Steven James Adams+Papernut Cambridge+Bill Botting
- replies (0)
Sat 6 Aug, London - Shake The Shacklewell IV
- replies (0)
Sounds XP Masters Fantasy league 2016/17
- replies (0)
LDN 20/8 Miracle Legion + Darren Hayman @ Oslo, Hackney
- replies (0)
Bear Driver




Paws and Claws EP

self released

Article written by Paul M - Feb 7, 2010

The Paws and Claws EP was actually self-released last year but as it escaped our notice back then and is still available, I thought I'd give it a very deserved heads-up now. All three tracks are excellent and though the band are from Leeds, they have a distinctly American sound. A Thousand Samurais is soporific lo-fi woozy dreampop that finishes with appropriate oriental key flourishes but it's second track No Time To Speak that is the pick, with its breathy harmonies and catchy riff; a mere four minutes hardly does the quality songwriting justice. Highly recommended.