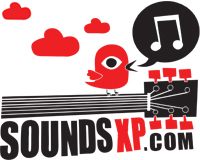 HOME
REVIEWS
albums
singles/downloads
gigs
demos
NEWS
INTERVIEWS
FREE MP3s
STREAMED MUSIC
MUSIC VIDEOS
FORUM
LINKS
ABOUT US
CONTACT US
SEARCH
- RSS Feed
SoundsXP Presents
Next show:

BAD FRIDAY!
Acts tbc

The Windmill, Brixton
Good Friday 2017, 3pm till late



On Our iPod
Latest Forum Posts
Where did everyone go?
- replies (1)
Support a good cause, see some great bands and win stuff!!
- replies (0)
Masonics + Baron Four + Ye Nuns + raffle!
- replies (0)
End of the Road 2016 - hits and misses
- replies (1)
17/9 Walthamstow Festival Indie Alldayer - Free!
- replies (0)
RIP David Bowie
- replies (7)
7/9 LDN Steven James Adams+Papernut Cambridge+Bill Botting
- replies (0)
Sat 6 Aug, London - Shake The Shacklewell IV
- replies (0)
Sounds XP Masters Fantasy league 2016/17
- replies (0)
LDN 20/8 Miracle Legion + Darren Hayman @ Oslo, Hackney
- replies (0)
Captive State




Elmore Grove

Genuine Records

Article written by Mary B - Sep 29, 2008

Sometimes EPs suffer slightly when the songs are just too long and I think this is a fine example of that philosophy. Add to the fact that what we've got here is a mix of psych-folk and soft rock (always a dangerous gamble). Yet, produced by Lemon Jelly's Nick Franglen it all starts semi-promising.

'Mona' is not offensive to the ears but it's not making me want to listen to it again either and then 'China White Doll' comes on and to begin with it's so interesting to listen to. The opening music is simply beautiful and the opening lyrics and then it descends into something else. And that's a long 'something else' when it's for six minutes and thirty nine seconds.

'Weatherman' is what this band should be producing. If they could tap into that song over and again they may well have a winning formula. The atmospheric musical compositions, the velvet voice that twangs with tragedy and the subject matter that fills your heart with sorrow - that's what Captive State should be capitalising on... even though soft rock slips in there, they get away with it, just.

The first minute of 'Lost' is brilliant and then it finds itself in stadium rock territory where your dad taps his foot along while you try to ignore him doing it. They say that 'Lost' is a purposefully drive-time rock 'n' roll parody' and I do not agree. It's a squandered opportunity. Apparently Tom and Joseph are in the studio at present working on new sounds. Let's hope it's a little more 'Weatherman' and a little less 'Lost'.