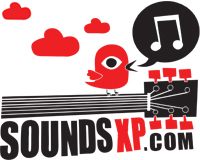 HOME
REVIEWS
albums
singles/downloads
gigs
demos
NEWS
INTERVIEWS
FREE MP3s
STREAMED MUSIC
MUSIC VIDEOS
FORUM
LINKS
ABOUT US
CONTACT US
SEARCH
- RSS Feed
SoundsXP Presents
Next show:

BAD FRIDAY!
Acts tbc

The Windmill, Brixton
Good Friday 2017, 3pm till late



On Our iPod
Latest Forum Posts
Where did everyone go?
- replies (1)
Support a good cause, see some great bands and win stuff!!
- replies (0)
Masonics + Baron Four + Ye Nuns + raffle!
- replies (0)
End of the Road 2016 - hits and misses
- replies (1)
17/9 Walthamstow Festival Indie Alldayer - Free!
- replies (0)
RIP David Bowie
- replies (7)
7/9 LDN Steven James Adams+Papernut Cambridge+Bill Botting
- replies (0)
Sat 6 Aug, London - Shake The Shacklewell IV
- replies (0)
Sounds XP Masters Fantasy league 2016/17
- replies (0)
LDN 20/8 Miracle Legion + Darren Hayman @ Oslo, Hackney
- replies (0)
Death in Public




Biometrics

Demo

Article written by Micky K - Jan 14, 2008

There is a common misconception regarding shoegazing bands. They tend to listen to the Jesus and Mary Chain back catalogue and assume that making a racket is all that it's about. Herein lays the evidence.

Even the Mary Chain knew that their songs needed dynamics and changes to be remotely listenable, instead of just bludgeoning the listener with wailing guitars, big sounding delay and feedback, a concept that Death in Public don't get in this their latest cut.

Firstly, they seem to have gone through the guitar effects randomly, finding anything that sounds remotely interesting and added it to the track without much thought as to whether the sounds actually work together. Overdub, overdub, overdub, until after 2 minutes there is such a cacophony of noise that it is nigh on impossible to distinguish one sound from the other. The track has no chance to build or work to a climax, so sounding like the acoustic version of a relief map of East Anglia. One gets the impression that they are basically daring the listener to tough it out to get to the end of the track.

So onto the drums. A frankly abysmal mix of the drums tracks, where the high hat sticks up like a nail that desperately needs to be hammered down, the snare sounds like it was recorded in a broom cupboard and a kick drum so dry and lost in the mix that at times it feels like the drummer has forgotten to play the damn thing.

Which brings us finally to the vocals. Underneath the nowadays overused "stick the vocals through the effect that makes it sound like they're overdriven and shouted into a megaphone" sound there is hidden a voice that is capable of actually singing. Why they felt the desire to wreck the vocal track by doing this God only knows. If they had gone for a clean sound it would have given the track some much needed dynamics and possibly made it considerably more listenable.

It appears this track has little going for it, and due to this mix it is difficult not to agree. However, underneath there is a decent song trying to get out, but is bogged down by shoddy mixing and a lack of understanding in the production. One gets the feeling that each member of the band during the mixing insisted on having their parts turned up so they could be heard, instead of somebody stamping some authority on the production and saying that less is sometimes more in the great scheme of things. If Death in Public are serious in what they are doing, it's going to require one of them to assume control of the sound desk and rule with an iron fist. Production by committee just doesn't work, and until they realise this will be nothing more than also ran's in their particular genre of music.