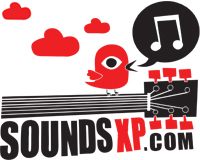 HOME
REVIEWS
albums
singles/downloads
gigs
demos
NEWS
INTERVIEWS
FREE MP3s
STREAMED MUSIC
MUSIC VIDEOS
FORUM
LINKS
ABOUT US
CONTACT US
SEARCH
- RSS Feed
SoundsXP Presents
Next show:

BAD FRIDAY!
Acts tbc

The Windmill, Brixton
Good Friday 2017, 3pm till late



On Our iPod
Latest Forum Posts
Where did everyone go?
- replies (0)
Support a good cause, see some great bands and win stuff!!
- replies (0)
Masonics + Baron Four + Ye Nuns + raffle!
- replies (0)
End of the Road 2016 - hits and misses
- replies (1)
17/9 Walthamstow Festival Indie Alldayer - Free!
- replies (0)
RIP David Bowie
- replies (7)
7/9 LDN Steven James Adams+Papernut Cambridge+Bill Botting
- replies (0)
Sat 6 Aug, London - Shake The Shacklewell IV
- replies (0)
Sounds XP Masters Fantasy league 2016/17
- replies (0)
LDN 20/8 Miracle Legion + Darren Hayman @ Oslo, Hackney
- replies (0)
Dirty Fingernails




Greetings From Finsbury Park N4

Article written by Ged M - Feb 16, 2008

Attention new bands! If you're going to compete with the plethora of professionally presented packages that come for review, remember that imagination and wit trumps slick PR every time. Dirty Fingernails are a case in point. The name isn't inspiring but the cover - a handdrawn parody of Bruce Springsteen's famous 1973 album (check the title above!) - attracts your attention and the hand written letter in which these Finnish migrant workers claim to be "living the dream in Finsbury Park" (the Finns obviously aspire to live in squalor) and point out their best songs "if you can't be arsed to listen to the whole album" wins you over to their strange Midnight Sun-warped humour.

When you hear their record they surprise you again – most demos are dull but this one has moments of magic. They're a two piece - Paivi and Sami – who play electropop with an indie twist. I hear Persil, the Pet Shop Boys, the Research and at one strange moment some Primal Scream in these songs but the lyrics are definitely their own: "Bono makes me wish Mark David Chapman makes his parole" sings Sami on 'The Man The Myth The Music' while on the troubled Europop of 'There Are No Monsters in Our Closets", he dismisses modern concerns: "[we've] got carbon sinks for the conscience and cream for the clap". There are tales of Marianne Faithful and Burmese prisons but their capacity for inspired lunacy has already been established.

This ain't what you expect from a demo and it's enough to make me want to check them out live. They've got another gig – 21 February at the 12 Bar – before they're off to the South of France for the grape picking season (but I see they're back for Indietracks in the summer) so listen to their myspace and see them live: Finns, begin!