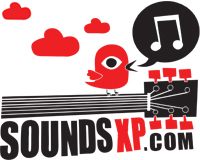 HOME
REVIEWS
albums
singles/downloads
gigs
demos
NEWS
INTERVIEWS
FREE MP3s
STREAMED MUSIC
MUSIC VIDEOS
FORUM
LINKS
ABOUT US
CONTACT US
SEARCH
- RSS Feed
SoundsXP Presents
Next show:

BAD FRIDAY!
Acts tbc

The Windmill, Brixton
Good Friday 2017, 3pm till late



On Our iPod
Latest Forum Posts
Where did everyone go?
- replies (1)
Support a good cause, see some great bands and win stuff!!
- replies (0)
Masonics + Baron Four + Ye Nuns + raffle!
- replies (0)
End of the Road 2016 - hits and misses
- replies (1)
17/9 Walthamstow Festival Indie Alldayer - Free!
- replies (0)
RIP David Bowie
- replies (7)
7/9 LDN Steven James Adams+Papernut Cambridge+Bill Botting
- replies (0)
Sat 6 Aug, London - Shake The Shacklewell IV
- replies (0)
Sounds XP Masters Fantasy league 2016/17
- replies (0)
LDN 20/8 Miracle Legion + Darren Hayman @ Oslo, Hackney
- replies (0)
Girls on Film




Girls on Film

self-released

Article written by Ged M - Aug 5, 2007

Thankfully not a Duran Duran tribute band (though they're all from the West Midlands), Girls On Film are a spinoff from Worcester supergroup And What Will Be Left Of Them. Created by Chris Wemyss (drums, vocals) and Pete Adams (guitar, vocals) they play what they call "clatterpop" – a punky-pop hurricane of dangerous energy. 'Girls On Film' is a scenic collision of angular guitar riffs and furiously struck drums while 'Break' starts like a grunge band but then goes all soft-rock: a sort of Supertramped Nirvana. The third track Waxie's Dargle is as gloriously ramshackle as the Pogues' version summing up the demo pretty well: good songs played for the craic.