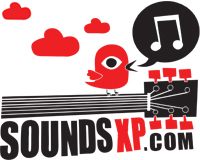 HOME
REVIEWS
albums
singles/downloads
gigs
demos
NEWS
INTERVIEWS
FREE MP3s
STREAMED MUSIC
MUSIC VIDEOS
FORUM
LINKS
ABOUT US
CONTACT US
SEARCH
- RSS Feed
SoundsXP Presents
Next show:

BAD FRIDAY!
Acts tbc

The Windmill, Brixton
Good Friday 2017, 3pm till late



On Our iPod
Latest Forum Posts
Where did everyone go?
- replies (1)
Support a good cause, see some great bands and win stuff!!
- replies (0)
Masonics + Baron Four + Ye Nuns + raffle!
- replies (0)
End of the Road 2016 - hits and misses
- replies (1)
17/9 Walthamstow Festival Indie Alldayer - Free!
- replies (0)
RIP David Bowie
- replies (7)
7/9 LDN Steven James Adams+Papernut Cambridge+Bill Botting
- replies (0)
Sat 6 Aug, London - Shake The Shacklewell IV
- replies (0)
Sounds XP Masters Fantasy league 2016/17
- replies (0)
LDN 20/8 Miracle Legion + Darren Hayman @ Oslo, Hackney
- replies (0)
Jake Flowers




Concrete Recordings

Article written by Mary B - Mar 22, 2009

The press release calls it a three track sampler. I call it heaven on a disc. I love Jake Flowers and not because he is a bit gorgeous. There is something really traditional and yet refreshingly new about him. The vocals are so gentle that they caress me. This is country/folk music for right now. 'Fireworks' is simple and yet so beautiful to listen to that I find myself slumping back in my chair and sighing like a lovesick teenager who has just met the boy of her dreams.

The pace of 'Annabel' is faster and not as smooth as 'Fireworks' but then it is dealing with temptation and Catholic guilt. The devil works his way in and out of the drums and strings.

'Anyhow' is a song about a failed seduction and sadly closes the music proceedings. I had never heard of Jake until tonight but can understand now how, like his surname, he will blossom into a well known name in the folk field and quite rightly so.