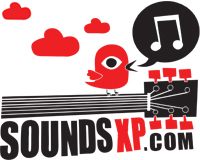 HOME
REVIEWS
albums
singles/downloads
gigs
demos
NEWS
INTERVIEWS
FREE MP3s
STREAMED MUSIC
MUSIC VIDEOS
FORUM
LINKS
ABOUT US
CONTACT US
SEARCH
- RSS Feed
SoundsXP Presents
Next show:

BAD FRIDAY!
Acts tbc

The Windmill, Brixton
Good Friday 2017, 3pm till late



On Our iPod
Latest Forum Posts
Where did everyone go?
- replies (0)
Support a good cause, see some great bands and win stuff!!
- replies (0)
Masonics + Baron Four + Ye Nuns + raffle!
- replies (0)
End of the Road 2016 - hits and misses
- replies (1)
17/9 Walthamstow Festival Indie Alldayer - Free!
- replies (0)
RIP David Bowie
- replies (7)
7/9 LDN Steven James Adams+Papernut Cambridge+Bill Botting
- replies (0)
Sat 6 Aug, London - Shake The Shacklewell IV
- replies (0)
Sounds XP Masters Fantasy league 2016/17
- replies (0)
LDN 20/8 Miracle Legion + Darren Hayman @ Oslo, Hackney
- replies (0)
Roadside Poppies




Seven Ways to Derail A Train of Thought

Indietracks only CD-R

Article written by Paul M - Jul 28, 2008

One of the definite highlights of 2008's mighty Indietracks festival was catching this Copenhagen/Cambridge collective on the church stage. That day they put in a delightfully shambling display battling with MP3 technology to cock up their set with the wrong pre-recorded drumbeats. If they'd been just as inept at songwriting, or lacked a sense of humour I'd have walked out within minutes but instead I sat transfixed as they delivered half an hour of wonderfully cute and catchy songs. This limited CD-R captures the ditties performed that day and they essentially have two sounds depending on whether Matloob or Martin does vocals. With the former it's jangly indie-pop, all sunshine and smiles while the latter is more thoughtful college rock with Lloyd Cole and the chiming guitars of REM being possible pointers. Both are utterly spiffing. The only downside is that with four of them in Denmark and three over here it seems unlikely that I'll get too many opportunities to see them again.