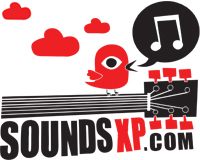 HOME
REVIEWS
albums
singles/downloads
gigs
demos
NEWS
INTERVIEWS
FREE MP3s
STREAMED MUSIC
MUSIC VIDEOS
FORUM
LINKS
ABOUT US
CONTACT US
SEARCH
- RSS Feed
SoundsXP Presents
Next show:

BAD FRIDAY!
Acts tbc

The Windmill, Brixton
Good Friday 2017, 3pm till late



On Our iPod
Latest Forum Posts
Where did everyone go?
- replies (1)
Support a good cause, see some great bands and win stuff!!
- replies (0)
Masonics + Baron Four + Ye Nuns + raffle!
- replies (0)
End of the Road 2016 - hits and misses
- replies (1)
17/9 Walthamstow Festival Indie Alldayer - Free!
- replies (0)
RIP David Bowie
- replies (7)
7/9 LDN Steven James Adams+Papernut Cambridge+Bill Botting
- replies (0)
Sat 6 Aug, London - Shake The Shacklewell IV
- replies (0)
Sounds XP Masters Fantasy league 2016/17
- replies (0)
LDN 20/8 Miracle Legion + Darren Hayman @ Oslo, Hackney
- replies (0)
The Rosie Taylor Project




Scotland Sketches Demos EP

Bad Sneakers Records

Article written by Ged M - Jul 8, 2007

The Rosie Taylor Project are a new Leeds band whose first official single comes out shortly on Bad Sneakers Records but whose demos are being circulated to whet our appetites. They formed in August 2006 as an alternative country rock band but these songs show that they've progressed far beyond that in the short time they've been together. It's sun-warmed folk, reflective and soulful, reminding this listener of the tiny gems turned out by the Fence Collective or the Go Betweens, inhabiting a world where electric guitars gently buzz, a trumpet softly blows and the vocals are a murmur among pristine melodies. Pick of the four songs here are 'A Good Cafe on George Street' and the forthcoming single 'Black and White Films'. These songs are subtle but insidious and soon enough you'll find yourself humming these tunes (but softly).