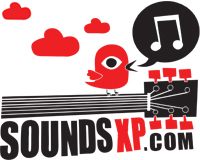 HOME
REVIEWS
albums
singles/downloads
gigs
demos
NEWS
INTERVIEWS
FREE MP3s
STREAMED MUSIC
MUSIC VIDEOS
FORUM
LINKS
ABOUT US
CONTACT US
SEARCH
- RSS Feed
SoundsXP Presents
Next show:

BAD FRIDAY!
Acts tbc

The Windmill, Brixton
Good Friday 2017, 3pm till late



On Our iPod
Latest Forum Posts
Where did everyone go?
- replies (0)
Support a good cause, see some great bands and win stuff!!
- replies (0)
Masonics + Baron Four + Ye Nuns + raffle!
- replies (0)
End of the Road 2016 - hits and misses
- replies (1)
17/9 Walthamstow Festival Indie Alldayer - Free!
- replies (0)
RIP David Bowie
- replies (7)
7/9 LDN Steven James Adams+Papernut Cambridge+Bill Botting
- replies (0)
Sat 6 Aug, London - Shake The Shacklewell IV
- replies (0)
Sounds XP Masters Fantasy league 2016/17
- replies (0)
LDN 20/8 Miracle Legion + Darren Hayman @ Oslo, Hackney
- replies (0)
Summer Cannibals




Demos

Article written by Kev W - Jul 9, 2012

Portland duo Summer Cannibals introduced themselves as a "new band", something which isn't uncommon with regards to the music submissions we receive, but we weren't quite prepared for them to be as new as they are. With a facebook page totalling just 17 'likes' currently (this is going to go WAY higher before long) and no photos posted online so far, the pair have just two tracks available to stream. For such a recently formed project these songs are mightily impressive, more like the work of people totally comfortable with the concept of creating music.

Dig a little deeper and you see why: Jessica Boudreaux and Marc Swart have previous form. Both were members of Your Canvas as well as other bands. The experience shows, although not new to music, Summer Cannibals is still a new project yet it's arrived fully-formed, and that's no mean feat. 'Handle This Love' and 'Can't Get Enough' possess a certain swagger and confidence. Grungy guitars do battle with a rich and smooth vocal and some stern drumming. If you were to get The Kills and strip away the self-concious posing that's blighted their career then you can imagine this being the result. They have the edge, the power, the mystery and the tunes; these fine young Cannibals could do very well for themselves.