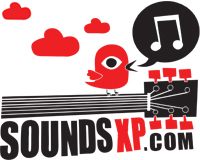 HOME
REVIEWS
albums
singles/downloads
gigs
demos
NEWS
INTERVIEWS
FREE MP3s
STREAMED MUSIC
MUSIC VIDEOS
FORUM
LINKS
ABOUT US
CONTACT US
SEARCH
- RSS Feed
SoundsXP Presents
Next show:

BAD FRIDAY!
Acts tbc

The Windmill, Brixton
Good Friday 2017, 3pm till late



On Our iPod
Latest Forum Posts
Where did everyone go?
- replies (1)
Support a good cause, see some great bands and win stuff!!
- replies (0)
Masonics + Baron Four + Ye Nuns + raffle!
- replies (0)
End of the Road 2016 - hits and misses
- replies (1)
17/9 Walthamstow Festival Indie Alldayer - Free!
- replies (0)
RIP David Bowie
- replies (7)
7/9 LDN Steven James Adams+Papernut Cambridge+Bill Botting
- replies (0)
Sat 6 Aug, London - Shake The Shacklewell IV
- replies (0)
Sounds XP Masters Fantasy league 2016/17
- replies (0)
LDN 20/8 Miracle Legion + Darren Hayman @ Oslo, Hackney
- replies (0)
Swaying Wires




Demos

Article written by Kev W - Feb 24, 2012

Given its rich tradition in folklore, it should be of little surprise that, along with the UK, Scandinavia has caught the folk/alt-country revival bug in recent years, with the genre threatening to outshine pop and indiepop as their biggest musical export to British ears. Beginning as the one woman project of singer-songwriter Tina Karkinen, Swaying Wires hail from the city of Turku in south-west Finland and have gradually filled out into a full band, recording a clutch of demo tracks that have caused more than a few listeners to prick up their ears.

With such a strong voice and universal sound (if you were told the band were English or American you'd have no reason to think otherwise) this cracking batch of tunes have the potential to generate widespread interest. Plans are in place to hit the studio in the summer to begin work on a debut album, and the fact that the band are inspired by lo-fi indie bodes well. What's recorded so far isn't exactly rough around the edges and it would be awful for the soul they have to be stripped away with too much studio trickery. 'Brings Me Home' and 'Bluebird' would sit happily on many acclaimed indie/folk records of recent years, so fingers crossed that they resist temptation to meddle with what is already a thoroughly decent sound. With these few songs Swaying Wires are already halfway to creating a debut album of some stature.