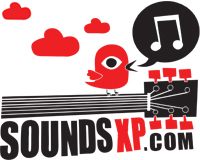 HOME
REVIEWS
albums
singles/downloads
gigs
demos
NEWS
INTERVIEWS
FREE MP3s
STREAMED MUSIC
MUSIC VIDEOS
FORUM
LINKS
ABOUT US
CONTACT US
SEARCH
- RSS Feed
SoundsXP Presents
Next show:

BAD FRIDAY!
Acts tbc

The Windmill, Brixton
Good Friday 2017, 3pm till late



On Our iPod
Latest Forum Posts
Where did everyone go?
- replies (1)
Support a good cause, see some great bands and win stuff!!
- replies (0)
Masonics + Baron Four + Ye Nuns + raffle!
- replies (0)
End of the Road 2016 - hits and misses
- replies (1)
17/9 Walthamstow Festival Indie Alldayer - Free!
- replies (0)
RIP David Bowie
- replies (7)
7/9 LDN Steven James Adams+Papernut Cambridge+Bill Botting
- replies (0)
Sat 6 Aug, London - Shake The Shacklewell IV
- replies (0)
Sounds XP Masters Fantasy league 2016/17
- replies (0)
LDN 20/8 Miracle Legion + Darren Hayman @ Oslo, Hackney
- replies (0)
The 100 Club




demo

Article written by Will B - Feb 7, 2008

There isn't much information for me to go on apart from a sleek, sexy logo and minimalist sleeve design, but as soon as lead track 'Told You So' blasts from the speakers it has my undivided attention. The verse races in on robotic drums and huge fuzzy bass with the ice-cold vocals nice and high in the mix. A sort of New York-cool vibe develops before shifting up a gear as the guitars and vocal harmonies come in for a chorus catchier than an STD. The song careers to an end with keyboards, guitars and bass colliding into one-another before imploding just shy of the 3 minute mark.

'Never Forget' is up next and offers a similarly potent blend of dirty bass, crisp beats and intelligent riffs. I'm impressed by the craftsmanship on show, with every lyric, drum-fill and guitar line having obviously been carefully considered to allow the track plenty of breathing room amidst the heavy sound. The vocals have an almost sneering quality, with lyrics that are spat out of the speaker and into the listeners ears demanding you to listen to what is being said, whilst the muscular groove rolls along relentlessly.

The final track, 'It Stops Me Loving You', showcases the depth of songwriting on offer, delivering an almost trip-hop vibe through moody basslines and dark lyrics detailing a love/hate relationship. A haunting guitar melody drags the song along as the rhythm section provides an atmospheric backdrop to the sombre tale. The tension builds and builds before reaching a climax and fading away into a swirl of keyboards and effects.

The 100 Club have updated the alternative rock formula and produced a very sleek and sophisticated, yet dirty and rocking set of songs. It will be interesting to watch their progression.