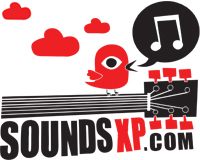 HOME
REVIEWS
albums
singles/downloads
gigs
demos
NEWS
INTERVIEWS
FREE MP3s
STREAMED MUSIC
MUSIC VIDEOS
FORUM
LINKS
ABOUT US
CONTACT US
SEARCH
- RSS Feed
SoundsXP Presents
Next show:

BAD FRIDAY!
Acts tbc

The Windmill, Brixton
Good Friday 2017, 3pm till late



On Our iPod
Latest Forum Posts
Where did everyone go?
- replies (1)
Support a good cause, see some great bands and win stuff!!
- replies (0)
Masonics + Baron Four + Ye Nuns + raffle!
- replies (0)
End of the Road 2016 - hits and misses
- replies (1)
17/9 Walthamstow Festival Indie Alldayer - Free!
- replies (0)
RIP David Bowie
- replies (7)
7/9 LDN Steven James Adams+Papernut Cambridge+Bill Botting
- replies (0)
Sat 6 Aug, London - Shake The Shacklewell IV
- replies (0)
Sounds XP Masters Fantasy league 2016/17
- replies (0)
LDN 20/8 Miracle Legion + Darren Hayman @ Oslo, Hackney
- replies (0)
The Sexual Outlaws




Pavement Butterfly

Demos

Article written by Kev W - May 13, 2012

We don't have a lot to go on when telling you about Portland band The Sexual Outlaws, but it seems they've been around for two or three years and they've just emailed us a new EP of demos entitled 'Pavement Butterfly' which you can pick up from their website. The news is that they'll be hitting the studio next month to touch them up and finish them off. Although it's hardly like they need much extra work done to them. These five songs already sound like a finished article, and at pretty darn accomplished one at that.

Taking their cue from decades of great guitar pop, we get a brief dose of baggy on the excellent 'Night Of The Living Bachelors' which also comes with a delightful jangle borrowed from late 80s indie. 'I Made A Promise' is vibrant powerpop that seems so fully-formed you wonder exactly what more they can do to it with some extra equipment. I guess we'll find out before too long, so we'd suggest getting your mitts on this batch of demos while they're still available and then getting a little bit excited about the fact that very soon they could be making them sound even better.