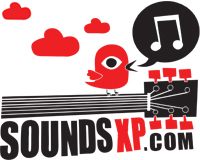 HOME
REVIEWS
albums
singles/downloads
gigs
demos
NEWS
INTERVIEWS
FREE MP3s
STREAMED MUSIC
MUSIC VIDEOS
FORUM
LINKS
ABOUT US
CONTACT US
SEARCH
- RSS Feed
SoundsXP Presents
Next show:

BAD FRIDAY!
Acts tbc

The Windmill, Brixton
Good Friday 2017, 3pm till late



On Our iPod
Latest Forum Posts
Where did everyone go?
- replies (1)
Support a good cause, see some great bands and win stuff!!
- replies (0)
Masonics + Baron Four + Ye Nuns + raffle!
- replies (0)
End of the Road 2016 - hits and misses
- replies (1)
17/9 Walthamstow Festival Indie Alldayer - Free!
- replies (0)
RIP David Bowie
- replies (7)
7/9 LDN Steven James Adams+Papernut Cambridge+Bill Botting
- replies (0)
Sat 6 Aug, London - Shake The Shacklewell IV
- replies (0)
Sounds XP Masters Fantasy league 2016/17
- replies (0)
LDN 20/8 Miracle Legion + Darren Hayman @ Oslo, Hackney
- replies (0)
Dream of Sleeping




May All My Delusions Come True

Terminal Cell

Article written by Matt H - Feb 21, 2010

Melton Mowbray's Neil Cartmell is able to craft a very decent downbeat song. Most successful are his simplest songs - such as the opener Scars with its Simon and Garfunkel guitar. And the gentle strings and shake in the voice of Wait in Line in particular help it chunter along to a good US indie-folk effect.

It can get a bit over earnest though. There are some lovely gentle tunes that recall spare folksters like Things in Herds - but sometimes lacking just that trace of pop, of joy which they lace into their tunes. And every so often the emotion gets dialled up and the tunes start to soar atmospherically and it gets a bit too Snow Patrol (albeit an acoustic one) for comfort.

But reviewing can make you churlish. There's a talent at work here, not least the one that binds up the slipshod beats and stuttering interjections on Why How When. It's worth keeping half an ear on.