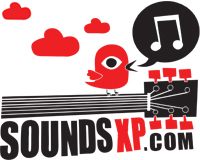 HOME
REVIEWS
albums
singles/downloads
gigs
demos
NEWS
INTERVIEWS
FREE MP3s
STREAMED MUSIC
MUSIC VIDEOS
FORUM
LINKS
ABOUT US
CONTACT US
SEARCH
- RSS Feed
SoundsXP Presents
Next show:

BAD FRIDAY!
Acts tbc

The Windmill, Brixton
Good Friday 2017, 3pm till late



On Our iPod
Latest Forum Posts
Where did everyone go?
- replies (0)
Support a good cause, see some great bands and win stuff!!
- replies (0)
Masonics + Baron Four + Ye Nuns + raffle!
- replies (0)
End of the Road 2016 - hits and misses
- replies (1)
17/9 Walthamstow Festival Indie Alldayer - Free!
- replies (0)
RIP David Bowie
- replies (7)
7/9 LDN Steven James Adams+Papernut Cambridge+Bill Botting
- replies (0)
Sat 6 Aug, London - Shake The Shacklewell IV
- replies (0)
Sounds XP Masters Fantasy league 2016/17
- replies (0)
LDN 20/8 Miracle Legion + Darren Hayman @ Oslo, Hackney
- replies (0)
Arbouretum / Three Blind Wolves




The Borderline, London

Article written by Michael H - Aug 26, 2013

This double-bill delivered a meaty platter of rock in two contrasting servings. Three Blind Wolves tore through a set of heart-felt punchy songs, full of great tunes and emotion. Tight, but with plenty of slack, the songs twisted and turned; endearingly frayed edges only boosted their appeal. The twin guitar set-up allowed for some lovely interplay. Their sound was mainly a loose Americana, think Fleet Foxes or Local Natives, but minus the sunshine; the melodies laced with grit.

Arbouretum had strong songs too but melted them all under a psych-stoner-metal heat lamp. Punishing riffs often gave way to long meandering guitar solos that never failed to captivate. A rootsy country foundation underpinned the more melodic sections, complex guitar lines were twisted around the driving rhythm section and roaring amps; the band were an organic intertwined group-mind, neurons pulsating with electricity. Their heaviness was never just for its own sake, the volume caressed as much as it attacked. Arbouretum specialise in beautiful long tunes stretching out from a cocoon of psych-noise, what more could one want from their bearded becapped space-rockers.