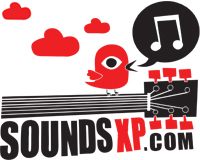 HOME
REVIEWS
albums
singles/downloads
gigs
demos
NEWS
INTERVIEWS
FREE MP3s
STREAMED MUSIC
MUSIC VIDEOS
FORUM
LINKS
ABOUT US
CONTACT US
SEARCH
- RSS Feed
SoundsXP Presents
Next show:

BAD FRIDAY!
Acts tbc

The Windmill, Brixton
Good Friday 2017, 3pm till late



On Our iPod
Latest Forum Posts
Where did everyone go?
- replies (0)
Support a good cause, see some great bands and win stuff!!
- replies (0)
Masonics + Baron Four + Ye Nuns + raffle!
- replies (0)
End of the Road 2016 - hits and misses
- replies (1)
17/9 Walthamstow Festival Indie Alldayer - Free!
- replies (0)
RIP David Bowie
- replies (7)
7/9 LDN Steven James Adams+Papernut Cambridge+Bill Botting
- replies (0)
Sat 6 Aug, London - Shake The Shacklewell IV
- replies (0)
Sounds XP Masters Fantasy league 2016/17
- replies (0)
LDN 20/8 Miracle Legion + Darren Hayman @ Oslo, Hackney
- replies (0)
Big Eyes Family Players / Neil McSweeney




The Greystones, Sheffield

Article written by Matt H - Apr 4, 2016

A low-key Sunday night folk gig in the (rather well appointed) back room of a local pub is the sort of evening that a recent catch-up with the Coen Brothers' Inside Llewyn Davis has changed forever. Fortunately tonight everyone seems relatively chipper and to be getting on OK, which makes for a more than decent evening.

First up is Neil McSweeney, who is at least partly responsible for the very excellent Gadabout series of gigs that this is part of. His unironic, thoughtful and slightly melancholic tunes have a deservedly high reputation around Sheffield. His attempts to explain how each came about seem to baffle even him slightly, but no matter - the songs do the work themselves and he has a great voice to lend to them.

The Big Eyes Family Players have in the past had a bit more national exposure, linking up with James Yorkston on his surprisingly straightforward Folk Songs album. Based around local artist James Green, the Big Eyes name has seen a fair variety of interesting, usually instrumental projects with an experimental bent. Their latest album, Oh!, marks something of a departure from that template and it's that they play tonight. For Oh! (which has an especially lovely polytechnic-chic sleeve vinyl fans), they've built around vocalist and songwriter Heather Ditch, who has brought a restrained psych-folk feel to the set of songs. And a beautiful set it is too. Like McSweeney there's an unashamed devotion to the craft of writing a good and meaningful song running through them all, with the band helping to create a relatively simple, haunting feel. It's not all restrained – there's the odd more abrasive and loud bit which prompts a completely unnecessary apology (though there's a temptation to stick a head round the door to check if any of the regulars in the bar are splutrering into their Thornbridge pints).

Despite that, it is a low-key evening and perfectly great for that. It's also a fundraiser for the Peace in the Park festival, which relies of volunteers and donations – there's a link below….