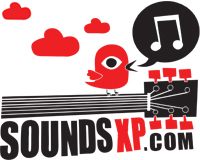 HOME
REVIEWS
albums
singles/downloads
gigs
demos
NEWS
INTERVIEWS
FREE MP3s
STREAMED MUSIC
MUSIC VIDEOS
FORUM
LINKS
ABOUT US
CONTACT US
SEARCH
- RSS Feed
SoundsXP Presents
Next show:

BAD FRIDAY!
Acts tbc

The Windmill, Brixton
Good Friday 2017, 3pm till late



On Our iPod
Latest Forum Posts
Where did everyone go?
- replies (0)
Support a good cause, see some great bands and win stuff!!
- replies (0)
Masonics + Baron Four + Ye Nuns + raffle!
- replies (0)
End of the Road 2016 - hits and misses
- replies (1)
17/9 Walthamstow Festival Indie Alldayer - Free!
- replies (0)
RIP David Bowie
- replies (7)
7/9 LDN Steven James Adams+Papernut Cambridge+Bill Botting
- replies (0)
Sat 6 Aug, London - Shake The Shacklewell IV
- replies (0)
Sounds XP Masters Fantasy league 2016/17
- replies (0)
LDN 20/8 Miracle Legion + Darren Hayman @ Oslo, Hackney
- replies (0)
British Sea Power / Brown Brogues




Rescue Rooms, Nottingham

Article written by Matt H - Apr 11, 2013

British Sea Power's latest LP Machineries of Joy has the undertone of a decision made. After the eclectic selection of Valhalla Dancehall it would seem that the acclaim and opportunities opened up by the From The Sea To The Land Beyond soundtrack have led them finally to plump for art over populism. A niche in the colour supplements and lengthy broadsheet profiles surely await (which isn't a criticism, it's a status held by the likes of PJ Harvey and Nick Cave after all). Looking around and realising as a forty-something you're probably bobbing around just under the average age of attendee, it's just possible it makes commercial sense too. If there's a problem (even if you don't miss their more rabble rousing element which surfaces only briefly on Monsters of Sunderland) it's that on the album there seems a limit to which the songs really take off and soar in the way their very best moments do.

If anything was going to free the songs up it was a live outing, though the initial bonus BSP set of five quieter efforts including 3 from the album served mainly to underscore the quality of the songs. True Adventures in particular has kept growing with its reinventions for soundtrack purposes and what What You Need The Most really needs the most is a full cheesy Sacha Distel interpretation. It didn't set the songs flying. But there was more to come…

Before that Brown Brogues made an appearance. A pretty rubbish band name not made much better when the appearance of a drummer and guitarist facing each other revealed it to be something of a pun on the White Stripes. But their punky rattle turned out to be a lot of fun. Uncomplicated and full of lairy energy and sludgy grooves they made a decent fist of working the evening up to its finale.

Returning to the stage with Machineries of Joy itself, BSP could hardly have bettered it as a statement of intent. Every extra bit of oomph and rise that you could have hoped for came through far stronger than on record. Other new songs fared similarly well. When The Warm Wind Blows Through The Grass felt even more insistent and sinister and K-Hole gained more of the Stooges energy that it ought to have – there's more to come there too you suspect. Curiously (for the longer term fan at least) the full on delirium came not from Lately or the, sadly polar bear-free, encore (which at least finally got a mosh-pit whirling a bit) but from the otherwise gentle Bear. Building and building it was both beautiful, interesting and a full-on powerful blanket of carefully crafted sound. If British Sea Power have chosen the more grown-up path then there was proof here that they've got both the songs and the chops to carry it off. They might find the 'national treasure' tag odd, but they might have to get used to it.